Home > News > Message Board

November 11, 2004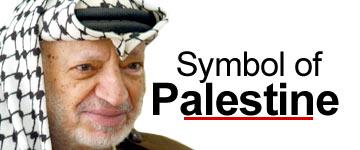 On November 11, Palestinian leader Yasser Arafat passed away in a hospital in Paris, far removed from his promised homeland – Free Palestine!
Flown to France on October 29 after nearly three years of being penned in his West Bank headquarters by Israeli tanks, his health initially improved then sharply deteriorated as rumours swirled about his illness.
Arafat has always been perceived in black or white. For some he epitomised terror in the Middle East, for others he was nothing less than saviour. But no one can deny that he represented an 'enduring symbol' of Palestinian nationhood, to quote Indian President APJ Abdul Kalam.
For Indians, the loss is closer home, given the country's traditional ties both with the Palestinian movement and Arafat.
And in his death, as in life, he remains a legend.
But was his death in vain? Tell us. 
Romesh Bhandari goes down memory lane


What do you think about the story?








Read what others have to say:





Number of User Comments: 66








Sub: Patriot

Arafat's efforts shall never go in vain. As Israel was a destiny's child, so is Palesteine. And History shall remember this terrorist turned non-violence ambassador, ...


Posted by Hiral Akruwala









Sub: one the deth of legend

i think for plastenin he never die he remains in there harts. poersonly i fill that no leader was born like him. i fill if ...


Posted by imran









Sub: But was Arafat's death in vain?

no his death will not go into vain. he did the same job in palestine that the gandhi did in india and the mandela did ...


Posted by shiv kuamr dixit









Sub: The Fight goes on

Abu Amar's (Yasser Arafat's) life was not in vein nor his death ...He has given the people of Palestine a platform to fight for their ...


Posted by Thaslim Arif









Sub: Arafat-Unfulfilled dream of Palestine

Mr.Arafat was a symbol of the struggle of Palestinians for a homeland.I feel sorry that it didnot happen during his lifetime.I pray to God Almighty ...


Posted by Dr.Seema Garcha






Disclaimer