Home > News > Message Board

November 09, 2004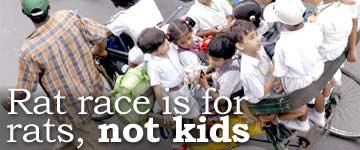 Rat race is a phrase that normally means 'exhausting routine that leaves no time for relaxation.'
It is also something we put our children through every day of their lives!
The race begins early as parents and tots prepare for KG 'interviews'!
Nursery school admissions are created by draw of lots.
From then on, a decade or more of lugging heavy school bags... shunting between school, tuitions and homework.
Is there release for kids from the vicious circle of peer/parental pressure, tuitions and unimaginative education policies? Solutions abound in theory.
One particularly interesting one, by the National Institute of Educational Planning and Administration in New Delhi proposed a solution. Children must not be failed in any class up to and inclusive of Standard 10.
Do you think the aforementioned idea is a way out?
Maybe you support the current system as a necessary evil to get your kid that coveted IIT seat you once missed?
Or do you have any choice at all to stand up and say 'the rat race is for rats, not my kids.'
Photograph: PRAKASH SINGH/AFP/Getty Images


What do you think about the story?








Read what others have to say:





Number of User Comments: 69








Sub: school study subjects choice

Any one aware about availability of service by any indian coaching centre or counselling firms or web portals or websites which provide service facilitating the ...


Posted by SARAVANAN









Sub: Rat race is for rats, not kids

The phrase is good but,why consider kids as rat, If the children are not failed how to judge who is intelligent and dull and the ...


Posted by Neeta Rawat









Sub: Are we Confused!!!

This is a continuation of my previous message.If children do not read geography just because its boring and they dont have any exam for it, ...


Posted by jyothi









Sub: Are we confused!!!

In a land where some states are talking of reforms to change education strategies, and the others talking of passing laws against abducting people,i think ...


Posted by jyothi









Sub: Rat Race is for Rats, not Kids

The Indian school system is flawed. Students are required to learn by rote. The dictionary defines 'rote' as 'memorization using routine or repetition without full ...


Posted by Ved Vedamanikam






Disclaimer