Home > News > First Look


Ratan Tata rides an army tank

PTI | November 08, 2004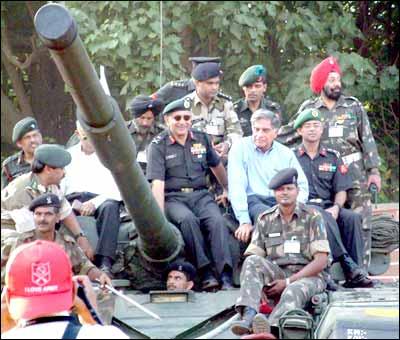 Tata Group Chairman Ratan Tata participated in the 'Know Your Army Exhibition' being held at Shivaji Park in central Mumbai on Sunday.
He had a first-hand feel of the tanks and other equipment displayed on the occasion.
He also visited the various stalls, including those that provided information on the army's various branches.
The exhibition was aimed providing citizens an insight into the army's weapons and equipment and generating awareness about the armed personnel.
Press Trust of India


What do you think about the story?








Read what others have to say:





Number of User Comments: 1








Sub: Ratan Tata rides an army tank

It is a pleasure to know that Mr.Ratan Tata visited the army exhibition. This Gentleman always does things out of the way and that is ...


Posted by Koonda






Disclaimer