Home > News > PTI

Bal Thackeray's son to join NCP

November 05, 2004 12:19 IST
Last Updated: November 05, 2004 15:28 IST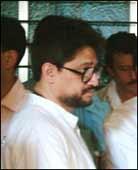 Criticising infighting in the Shiv Sena, Jaidev Thackeray on Friday announced his plans to join the Sharad Pawar-led Nationalist Congress Party. Jaidev is the estranged son of Sena chief Bal Thackeray and his decision is certain to cause a lot of embarrassment to the party.

"I have sought an appointment with Pawar and am likely to meet him in a day or two to finalise the modalities of joining the NCP. I have already held preliminary talks with some NCP leaders in this regard," Jaidev told PTI in Mumbai.

Asked whether he had spoken to his father or brother Uddhav, the executive president of the Sena, about his decision, he remarked, "It is a personal choice."

When asked why he had not chosen to join the Sena, he questioned, "What is the scope there? Everybody is fighting for his own benefit.

"At the same time, there is no factionalism in Sharad Pawar's party," he said adding that he would like to work with a party that is full of 'good leaders' and 'working for the cause of the common man'.

He has great 'respect' for Pawar, Jaidev said. He likes Pawar's style of functioning and his ability to take decisions swiftly.

Replying to a query, Jaidev clarified that he did not aspire for any post and wanted to work for the cause of the common man. His respect for Pawar had not sprouted overnight. He claimed to have been an avid fan of the NCP leader since his early days.

Jaidev had parted ways with Thackeray in 1995 over ideological differences when the Shiv Sena-Bharatiya Janata Party was in power. He had kept himself away from politics all these years.

"I was busy in finalising my divorce with wife Smita. Now that the divorce has come through, I will enter the political arena."

According to Jaidev, Smita had 'harmed' the Sena by 'intervening too frequently in the decision making process'.

The Bandra family court last week dissolved their marriage by mutual consent.

Smita, who has produced TV serials and films, and heads the Indian Motion Picture Producers' Association, continues to stay at 'Matoshree', the Thackeray family's residence in Bandra.
More reports from Maharashtra
Read about: Telgi case | Mumbai blasts


© Copyright 2006 PTI. All rights reserved. Republication or redistribution of PTI content, including by framing or similar means, is expressly prohibited without the prior written consent.