Home > News > Message Board

May 13, 2004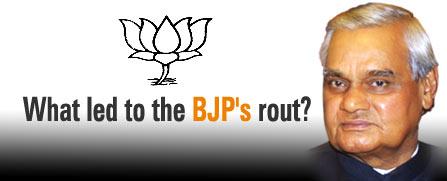 The rout of the Bharatiya Janata Party-led National Democratic Alliance in the 14th Lok Sabha election has left almost every political analyst eating their words.
The BJP, which seemed certain of returning to power when it called an election ahead of schedule, has been shocked by ths scale of its defeat.
What led to the BJP's drubbing at the hustings?
Was it its inability to address the common man's grievances?
Was it the 'anti-incumbency' factor?
Or was it just old-fashioned complacency?
Tell us.
Elections 2004: Complete coverage


What do you think about the story?








Read what others have to say:





Number of User Comments: 484








Sub: What led to BJP\'s route? ......... all its goodness & virtues

Why Hindus were defeated by all invaders? Because Hindus were brave, advanced in gyan & vigyan, they had terrific scientific developments & vedic science, they ...


Posted by prabhanjan









Sub: bjp

i would like to say that the people of india were wrong to vote out the vajpayee govt. from power. I have never seen a ...


Posted by vithal









Sub: what led to the defeat of bjp

the only strength was bajpaeeji and its very sad that the others in the party couldnt learn anything fron such a great leader.


Posted by nabonita









Sub: BJP's Rout

The over confidence made them call for early elections backfired. The false propaganda of India Shining and feel good did not click as the things ...


Posted by K.S.Khera









Sub: BJP Over confidence

The people who planned these elections have overlooked the ground realities like drought situation in many states last year. Also the policies of BJP are ...


Posted by bokka gangadhara rao






Disclaimer