Home > News > Interview

The Rediff Interview/

May 09, 2004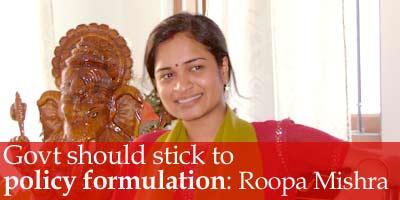 Roopa Mishra topped this year's civil service examination. The 27-year-old says that the job of a civil servant offers the widest scope for working in all sectors. Excerpts from an interview with Giridhar Gopal in Bhubaneswar

What motivated you to go for civil service?
Civil Servants are the biggest managers of all. It has the widest scope for working in all sectors - tourism, health, rural development and agriculture. Nothing can be more exciting and challenging.
How would you describe the role of a civil servant in India?

It has been one of responsibility and challenges.
You have chosen to serve in Orissa. Any particular reason?

Yes. Orissa is my home state and I understand its problems. My father (Dandanirodh Mishra) is a civil servant. I have had the opportunity to travel across the state with him. I have some ideas that I want to implement. In any case, I have only indicated my choice but the final posting depends on the UPSC.
Orissa is backward, poor and underdeveloped. What plans do you have in mind for its betterment?
If we go by the government figures on its socio-economic background, the state appears to be poor and backward. But it has a huge wealth of natural resources, rich cultural history, mines and minerals. It has huge potential for development. What it needs is a concerted and coherent effort to harness the potential.
Does the existing bureaucratic system require a change?
Definitely. We see changes in every sector. Gone are the days when we had colonial rule. Civil service requires changes and bureaucrats are changing. This is the era of education, transparency, Information Technology and efficiency. We need to see the civil servant not just as an officer but also as a thinking, feeling and emoting individual because the dream is to have a people friendly administration.
What role do you foresee for the government?
The government has responded to the changing times. Its role and focus is now changing from running businesses to policy formulation.
Should the government enhance the pay and perks of civil servants to attract the best talent who prefer to work in the private sector or in MNCs or foreign countries?
I am still a student and do not want to comment upon this subject. But I would like to say that we must focus on performance.
Who are the people behind your success?
My parents, in-laws, my husband and my friends. All of them encouraged me. Their love and affection and the wishes of god helped me succeed.
Where do you see yourself in the future?
I want to see myself as a successful administrator and, from the people's point of view, as a dedicated officer.
Photograph: Lingaraj Panda
The Rediff Interviews


What do you think about the story?








Read what others have to say:





Number of User Comments: 3








Sub: roopa

Government departments and establishments should be professionally managed to the maximim possible extent. Engineers, scientists, doctors, finance professionals and only such other professionals of the ...


Posted by rprm









Sub: Professionalism

We happen to be citizens of a nation, where a person at the helm of affairs in a PSU or govt. body, has the least ...


Posted by Ashish









Sub: Be Focussed

I hope the readers and prospective examinees would benfit from the advice that Roopa has shared with us. One should always focus on quality rather ...


Posted by anshuman






Disclaimer