Home > News > Lakme India Fashion Week > Hot News

'Pink is the colour of the season'

May 03, 2004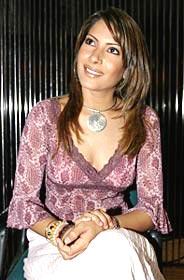 Former Miss India and Revlon model Meher Bhasin, who had stepped out of the limelight a few years ago, has made a comeback as anchorperson for the fashion television channel, Trendz.

Priya Ganapati caught up with her for five quick questi4ons

What did you wear for the first day of the Lakme India Fashion Week?

I wanted to dress differently. Usually I go for trousers or pants. But skirts are in this season so I opted for a long skirt. I wore pink because I love the colour. It is very light, very summery and very fashionable right now.

What kind of accessories did you choose to go with the outfit?

I like jewellery in silver so I picked my accessories in that colour. I wore a huge pendant strung on a silver coloured chain that I had picked from New York for just $ 5. And I wore hoop earrings. I think hoops go with anything. They can be worn everyday on either formal or informal clothes. Hoop earrings can be very versatile.

Who are your favourite designers?

I love Manish Arora, Sabyasachi Mukherjee and Rajesh Pratap Singh

Where do you usually shop?

I usually buy my stuff from Zara in London, a shop called Forever 21 in New York, the Mango stores, Banana Republic and Victoria's Secret.

Where do you like to buy your clothes from in India?

Actually, I don't buy anything here. I shop only when I go abroad.
Photograph: Jewella C Miranda
Editorial support: Imran Shaikh