Home > News > Lakme India Fashion Week > Fashion Tips

Look beautiful in five minutes

Priya Ganapati in New Delhi | May 03, 2004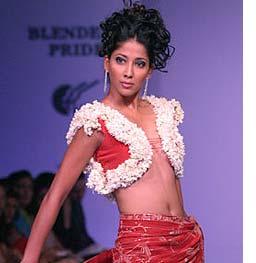 Want to use make-up but don't have the time to paint and powder your face?

Make-up expert Kapil Bhalla, who held a workshop at the Fashion Week, teaches you how to do your make-up in five minutes.

1. Clean your face with a cleanser. Then splash lots of water on it and, if possible, run a cube of ice on your skin.

2. Pat on a moisturiser which has two or three drops of foundation cream mixed into it. Always treat foundation like a cream: rub it into your face like a face cream so that it doesn't look caked.

3. Once the foundation is on, put two coats of mascara on your lashes. If you don't wear eye shadow, it is fine. Just team the mascara with a black eye pencil or kajal inside the eye.

4. Put on a little bit of lip gloss. This will highlight your lips.

5. For an evening out, just add a bit of glitter or shine to your make-up -- it could be to your eyeshadow or bronze powder on your bare arms or a bit of glitter on your cheeks.

That's it. Your make up is done in five minutes.
DON'T MISS
The art of make-up

Photograph: Jewella C Miranda
Editorial support: Imran Shaikh