Home > News > Lakme India Fashion Week > First Look

Walk like an Egyptian

Priya Ganapati in New Delhi | May 03, 2004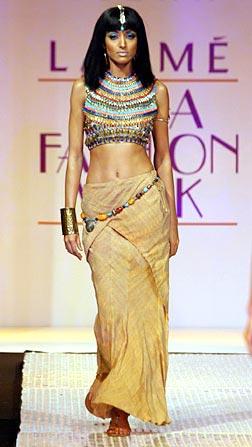 Egyptian and Moroccan inspired themes made an appearance on the final day of the Lakme India Fashion Week in designers Ashima-Leena's show.

Models wore bead-studded blouses, blunt cut wigs and special eye make-up that gave them a very Nefertiti-like look.

Instead of PrÍt, which had dominated LIFW 2004, Ashima-Leena chose to show a Diffusion line that had five sub-collections based on inspirations drawn from Egypt, Morocco, Turkey and medieval Europe.

The show opened with the Egyptian collection. Prints in distressed stripes reminiscent of sand dunes were teamed with heavy, bead-encrusted tops. The dresses were asymmetric body wraps in fluid georgette drapes.

The Turkish collection, inspired from the Ottoman robes, used prints on red, black and emerald tussar. Fur-collared blouses teamed with wraparound skirts and narrow pants added an element of romance.

The show's finale was the Moroccan collection, which combined red and tan suede with embellishments like coins and mirrors in black knee length jackets and short dresses.
Despite the fashion fatigue that has set in, the duo's show was fairly well-received. It is a collection that should do well in the Middle Eastern market, which is where the designers are focusing their attention on now.
Click on the image below for a bigger picture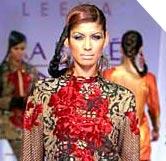 Photograph: Jewella C Miranda
Editorial support: Imran Shaikh