Home > News > PTI

Justice Rajendra Babu sworn in as CJI

May 02, 2004 15:36 IST
Last Updated: May 02, 2004 19:51 IST



Justice S Rajendra Babu, the senior most judge of the Supreme Court, was on Sunday sworn in as the Chief Justice of India (CJI) in Delhi.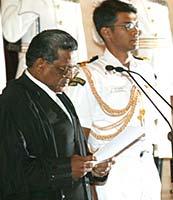 President Dr A P J Abdul Kalam administered the oath of office to Justice Babu at a ceremony in the Darbar Hall of Rashtrapati Bhawan.

Prime Minister Atal Bihari Vajpayee, Law and Justice Minister Arun Jaitley, Communications Minister Arun Shourie, Speaker of the dissolved Lok Sabha Manohar Joshi, all the judges of the Supreme Court and several other dignitaries were present on the occasion.

Justice Babu is the 34th Chief Justice of independent India. He will hold the office only for 31 days as he is due to retire on June 1. He succeeds Justice V N Khare, who retired on Sunday after over 16 months in office.

Enrolled as an advocate in 1965, Babu was appointed as a permanent judge of the Karnataka high court in 1988. He has delivered several landmark judgments, including the recent one on divestment of government equity in HPCL and BPCL, since his elevation to the Supreme Court in September 1997.

The judgment halted the divestment process and the government was asked to obtain prior approval of Parliament for divestment in the two oil PSUs as they were created by parliamentary enactments.

He was a member of the apex court bench, which in March last ruled that practice of Tandava Nritya (dance) in public with skull and tridents was not an essential part of the Anand Marg faith.

He has analysed the provisions of the Muslim Women (Protection of Rights on Divorce) Act 1986 in the Daniel Latifi versus Union of India case.

Besides, he has delivered several landmark judgments in civil, criminal, constitutional, environmental, taxation corporate law and IPR matters.

He believes that judges of the higher judiciary should reflect on the needs of the society before interpreting the law.

Known for his humane nature as also wit and humour, he is credited with delivering several lectures on important legal issues, including women's rights, IPR, freedom of speech and expression and judicial accountability at various national and international fora.

He participated in international seminars of Supreme Court judges held at Geneva in 2004 and in the US in 2003.


More reports from Delhi
Read about: Assembly Election 2003 | Attack on Parliament


© Copyright 2005 PTI. All rights reserved. Republication or redistribution of PTI content, including by framing or similar means, is expressly prohibited without the prior written consent.