Home > News > Specials

The Rediff Special/Ehtasham Khan in Mumbai

March 20, 2004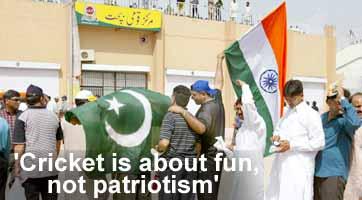 For Abdul Rehman, television is the field and his shop is the stadium.
Though his favourite game is football, this 46-year-old tailor from Mumbai watches cricket passionately.
But Rehman watches only India-Pakistan matches and his favourite is former India captain Kapil Dev.
When India defeated Pakistan in Karachi in the ongoing series between the two Asian giants, Rehman says he distributed sweets to all those who were watching the match along with him at his shop in Mahim, a Muslim-dominated neighbourhood in Mumbai.
Rehman, who sports a thick beard coloured with henna, was also a happy man when Pakistan beat India in the 2nd and 3rd ODIs.
"Cricket is about fun, not patriotism," he says while reading experts' comments on the matches. "The game should be played well. It should not be fixed.
"Being an Indian, I would be more happy if our players win the cup. But even if they don't, it doesn't matter as long as they put in all their efforts. And they are doing it. All the matches were so interesting. Every minute was interesting."
Rehman believes there was a time when Muslims were suspected as supporters of Pakistan. "Earlier, many people thought all Muslims were Pakistani supporters. This is changing now. Now very few people think like that.
"There may be some people (Indian Muslims) who still support Pakistan but they are very few. I don't see such people anymore."
He is impressed by the response of spectators in the stadium. "You can see both Indian and Pakistani flags on TV. There are all kinds of supporters. People are praising every good shot and every good ball no matter who the player is."
He finds India-Pakistan matches more interesting because both the teams play with a lot of passion against each other. "It may be because the other teams look alien and Pakistani players look very much like us, so there is more competition and everybody gets involved into the game. Also the kind of relationship we have had with Pakistan. People on both sides are becoming more mature and looking at cricket in the right spirit."
In Aligarh Muslim University in Uttar Pradesh, the common room of each hostel is like a war room with supporters of India and Pakistan sitting separately.
"The supporters of the winning team take out procession in the hostel to embarrass their opponents," says research scholar Sauban Ghani, who stays in Sir Syed Hall. It's a good fun. But it becomes dirty when people start abusing others.
"I see many people who become very emotional. I cannot do that and it is foolish."
He says he supports the losing team.
"You see if you are watching a match in a room with ten people and five of them are supporting one team and the other five supporting the other team, then the interest in the match increases manifold. You clap and tease the opponents. It is real fun," he says.
Mohammad Afroz sells flowers near a shrine in Mahim neighbourhood in Mumbai. He concentrates on the radio set when commentary is on. He says cricket is the only game that has a lot of fan following. He plays rarely but likes the game.
"I always support India. Now we are the best team in the world. Since India and Pakistan are playing after a long time in Pakistan, it has generated lots of interest," he says.
"It is really difficult to beat them especially in their home ground. But our players are fighting well. God willing, we will win again. Remember how we defeated them in the World Cup?"
Afroz, who has relatives in Karachi, wants channels to show glimpses of Pakistani cities along with the matches.
"I have never been to Pakistan but I am curious to see the place. They say it is just like India. The girls there are beautiful."
His friend Akbar, a taxi driver, is also obsessive about cricket, especially when it is between India and Pakistan.
"I didn't go to work in the second half of the (3rd) match. I watched the match in a shop. I wish India had won." He says he was earlier a fan of Mohammad Azharuddin, but got disappointed due to the controversy surrounding the match-fixing scandal around the former captain.
Then there are people who watch cricket for other reasons.
"I am basically interested in watching Rahul Dravid and Shoaib Akhter in action," says call centre executive Heba Kidwai in Delhi. "Rahul looks cute and very innocent and I love the style of Shoaib. I will go to see the match if he plays in India."
The Rediff Specials


What do you think about the story?








Read what others have to say:





Number of User Comments: 14








Sub: shame

Those wee not pseudo pictures, but true pictures.... Pseudo thinking is your personality


Posted by fuehrerr









Sub: Comment

Thanks Rediff for posting my second message which make me beleive that my previuos message might have got lost!! So I'll try to reproduce the ...


Posted by Moin









Sub: Re: Comment

Dear Rediff, I have posted a message at this board on 21st March 2004, whereby I have tried to clear some misinformation being spread by ...


Posted by Moin









Sub: THE INDIAN CRICKET FAN!!

Its all fine to say Cricket, or for that matter any game should be all fun and we should not go strictly by the Nationality. ...


Posted by J.N. Kini









Sub: Cricket as Fun

While I agree that Cricket is fun I should say that all games ..sports...cenimas are fun but patriotism is a natural feelings towards the country ...


Posted by kvshetty






Disclaimer