Home > News > Report

Advani in fortified Coimbatore

March 11, 2004 16:25 IST
Last Updated: March 11, 2004 21:18 IST



March 11, 2004, 0500 IST. A Maruti car is stopped by the police and searched thoroughly. A few meters away a man riding a two-wheeler is being frisked.

| | |
| --- | --- |
| | Also Read |
| | |
Vehicles are being stopped every few meters in Coimbatore. Deputy Prime Minister L K Advani is scheduled to address a rally in the town later in the day.

The police are not taking any chances. They have good reasons for being extra careful.

On February 14, 1998, 33 people were killed and 153 others injured in a series of blasts in Coimbatore, shortly before Advani arrived for a campaign meeting.
Local residents say the security checks have been taking place for the past four days. An autorickshaw driver, flying the Bharatiya Janata Party flag, says: "A big crowd would have come (for Advani's rally) if not for the police. They are searching everyone -- two wheelers, four wheelers none are spared. This will keep most people away."

A hotel clerk says the police check with him every hour. They ask him if he has seen any strangers lurking around; and suspicious movement or activity. Guests entry registers are checked and rechecked.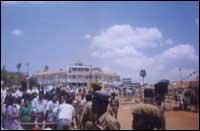 The hotel has been told that only regular clients should be given rooms.

Assistant Commissioner of Police Intelligence) Eluvan says there are pickets, patrols and check posts everywhere. He has issued instructions to round up all anti-social elements.

"We have been keeping a close watch on people coming from other states. We have been watching the Madani group at all times. They have a history of planned attacks. So we are wary. Fragments and splinter groups of Al-Umma (an Islamic extremist group, based in Kerala and Tamil Nadu) now call themselves 'Truth Voice.' We are watching them too," he says.

Advani will address a public meeting at the VOC stadium. He will stay at the Circuit House and address a press meet at the Ramalakshmi Kalyana Mandapam. Close-circuit television has been installed at all three locations.

There are 14 check posts around the city and over 2,000 policemen are on duty in Coimbatore alone.

Special intelligence teams have been brought in from Chennai. Intelligence Bureau agents are also here.





More reports from Tamil Nadu
Read about: Cases Against J Jayalalitha | Cauvery Water Dispute