Home > News > Report

Meet Maharashtra SSC exam toppers

Vijay Singh in Mumbai | June 23, 2004 00:14 IST



Meet the Maharashtra Secondary School Certificate (SSC) exam toppers.

Name: Mangesh Janardhan Nalawade
School: K B P Night High School in Jogeshwari (East)
Result: Topper in Mumbai division (among night school students) with 74.53%
Parents: Mangesh has three siblings. The family stays in Jogeshwari.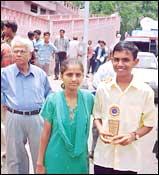 The family came to Mumbai from Sanswadi village three year back. Mangesh, his mother and his younger sister worked as domestic help to support the family. Mangesh got his present job through his younger sister Mangala who works in the house of Banshree Shukla, a bank employee. She introduced him to the Shukla family. Banshree's husband, who is an advocate, employed him in his office.
The Shukla family was aware of the children's interest in studies and provided necessary facilities, including teaching them. Both brother and sister used to work and stay at their home.
"It is the happiest moment for us. We didn't allow him to do any work during the exams and helped him to single-mindedly pursue his studies," Banshree Shukla said.
"It is a great moment for me. I want to become an engineer and I am sure of achieving my dreams," Mangesh said even as he acknowledged the contribution of his employers.
| | |
| --- | --- |
| | Also Read |
| | |
"My son is very good in studies and I will try to help him achieve his goal," said mother Jayshree.

Mangla, who is now in Class 10, is very happy about her brother's name appearing in the merit list and is keen to emulate him.

Name: Leena Mahesh Bhave
School: Parle Tilak Vidyamandir, Vile Parle (East)
Result: Leena, Darshana Sudeep Thakur of Saraswati Secondary School, Pooja Krishnanand Kamath of Sharon English High School were the toppers among the girls in Mumbai division with 94%.
Parents: Both hold government jobs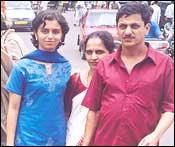 "I am very happy with my result. I didn't put any extra effort for the SSC exams. I will pursue studies in commerce stream," said Leena who is keen on sports and extra curriculum activities. "I am very much interested in classical music and singing but don't want to pursue it as a career."
"We did not put any pressure on her. She studied as per her own time-table. We don't want to treat it as some sort of an achievement because we don't believe in competition but this is the happiest moment for us (parents)," her father said.
Name: Durgesh Anil Deshpande
School: Dr Bedekar Vidyamandir (Marathi medium), Thane
Result: Top in Mumbai division with 94.40%
Parents: Father is manager in a private company. Mother had taken voluntary retirement from an insurance company and is now a housewife.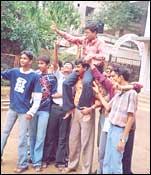 Durgesh did not put any extra effort for the examination. In fact, he used to enjoy playing his favourite games - cricket and football - during the examination.

Though aware of the demand for Information Technology professionals and the job market scenario, he is keen to pursue a course in electronic engineering. "I am very much interested in electronic engineering. My personal interest is more important to me than job prospect."

His father Anil Deshpande said, "We didn't put any pressure on him to put in more hours of study during the examination. Besides, even he does not like to study under pressure. He studied just like he always used to do".

"We were delighted on coming to know his result. We were sure that he would be in the merit list because he has been very good in studies from Class I. His teacher's always mention his good academic record. My wife and me did not have time to teach him but my father always helped him with Sanskrit and English."



More reports from Maharashtra
Read about: Telgi case | Mumbai blasts



What do you think about the story?








Read what others have to say:





Number of User Comments: 6








Sub: not a big task

just by remorising the book no one becomes genius. its not a big thing u have achieved.


Posted by Karthik









Sub: keep it up guys

congrats all of them on brilliant success.


Posted by sanjeev tiwari









Sub: Congrats to all SSC students

Well Done,Keep it up,Congratulations!!!- Keep the Same Momentum of Studies - You will reach and acheive your GOAL. Rasik Sir


Posted by Rasik Andaria









Sub: True Lies

Why is it that every merit holder says that he did not put any extra efforts in his studies for coming in the merit list.Even ...


Posted by rutvik









Sub: SSC Toppers

This style of your reports is wrong. You printed very small pictures of toppers while half of the page was blank. The boy who came ...


Posted by Shashank Gaitonde






Disclaimer