Home > News > Capital Buzz

Virendra Kapoor | June 14, 2004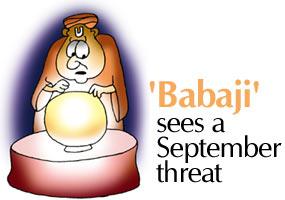 Astrologer Lachman Das Madan's stock has risen sky-high ever since he predicted, much before the results of the general election became known, that neither Atal Bihari Vajpayee nor Sonia Gandhi would become prime minister. Considering that the outgoing PM was widely believed to be on course to retain power, and Sonia was in with but a fighting chance just in case the BJP's allies slipped badly in their strongholds, Madan's prediction, duly published in his astrological monthly Babaji, was certainly an audacious one.
Naturally, Madan was not taken seriously by anyone, least of all by politicians who usually set great store by astrological predictions.
But there is a new-found respect for the west Delhi-based astrologer ever since the election results caused one of the biggest upsets in Indian parliamentary democracy. The surprise loss of power of the NDA, followed by Sonia's refusal to shoulder the prime ministerial burden, has made Madan a celebrity astrologer.
Since the election outcome, Madan has visited Vajpayee and told him that the date and time of dissolution of the last Lok Sabha was most inauspicious. Remarkably, however, he has predicted another spell of 'raj yog' for Vajpayee. Was that why Vajpayee, at the very first meeting of the newly constituted BJP parliamentary party, said he wasn't ready to sit in the Opposition for long?
Anyway, given the renewed respect for Madan's word, several politicians, newly in power or out of it, have made a beeline for his modest quarters in Delhi's Rajouri Garden colony.
Madan maintains a catalogue of leading politicians' horoscopes, be it Arjun Singh, Ajit Jogi, Vajpayee or L K Advani. He first gained currency in political circles when the late Sanjay Gandhi more or less made him his resident soothsayer during the Emergency. Since then Madan has regularly forecast the future of prominent politicians in Babaji.
Interestingly, Madan is not very optimistic about the future of the Manmohan Singh government. NDA politicians feel doubly energised by Madan's prediction that the government might hit a massive roadblock as early as September. And he holds out hope of Vajpayee leading the NDA back to power this year itself.
Madan's prediction may be based on astral signs of the relevant political personae, but he is not lacking in political analysis to back it up. He insists that Manmohan Singh is "a gentleman trapped among crooks," who will not be able to take the resulting heat and will call it quits sooner than later, preferring to renounce the post than put up with unscrupulous and avaricious colleagues. Madan believes that an aggressive Opposition and the inevitable pulls and pressures from within the ruling United Progressive Alliance will prove too much for the mild-mannered bureaucrat-turned-politician-turned-PM.
Now, if you believe in this sort of crystal-gazing, mark your calendar for a huge political earthquake this September.
The healing power of power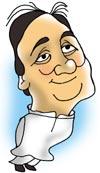 Power as an elixir of youth remains unsurpassed.
Gentleman politician Sunil Dutt was a lonely, lost figure in Delhi's political circles though he had won his Mumbai Northwest parliamentary seat for a record fifth time. Then, they made him a minister. And whoever decided the portfolio had a robust sense of humour, handing over sports and youth affairs to the septuagenarian star of Mother India, Waqt, and other Bollywood blockbusters of the 1950s and 1960s.
But surprise, surprise! Dutt has since discarded the walking stick that was his constant companion as he hobbled his way into Parliament House to attend the previous Lok Sabha.
Having recovered from an air crash last year, Duttsaab, as he is fondly called in film and political circles, no more sits forlorn in a corner unnoticed by others. His new ministerial status has worked wonders. Overnight, he looks younger and has gained confidence to talk freely with his colleagues.
At this rate he may soon make his maiden speech in Parliament.
Chicken soup in 'kulhads'

They make it out as if Railway Minister Laloo Prasad Yadav has just discovered the 'kulhad'.
He did not. Old-timers who follow this sort of things will tell you that it was Socialist Party leader George Fernandes in the Janata Party government led by Morarji Desai in 1977 who had first made headlines for ordering that tea at railway stations across the country be served in these cheap, hygienic earthen cups.
Over the years, the plastic revolution had led to their replacement by plastic and papier-mache cups. Laloo has merely ordered the lowly kulhad back in the Indian Railways.
But because the railways provide the canteen services in Parliament House, should that be cause enough for them to insist that even chicken soup will be served only in kulhads?
The other day a senior Cabinet minister, who ordered toast and chicken soup for himself while exchanging notes with his political friends in the Central Hall of Parliament, was stunned when he was served his soup in a kulhad.
The minister mumbled a protest that this was the first time in his life that he was having to drink soup from a kulhad though he had drunk tea, lassi and even milk from such vessels.
A fellow politician sitting beside the minister added to his misery by claiming that the kulhads were being recycled. That is to say, instead of being discarded after use, they were being cleaned and used again.
Hey, where's my security?
Politicians always go to great lengths to get themselves that ultimate status symbol: 'security.'
Following the installation of the new government in New Delhi, the local police reviewed the allotment of security guards to various politicians.
After evaluating the threat perceptions, they withdrew the security detail from some and provided it to others. Among those to lose their security car and guards was Balbir Punj, BJP member of the Rajya Sabha.
Naturally, Punj was miffed at the loss of this symbol of power. Networking with the powers-that-be, he has had his 'security' restored. But now he has to make do with a lone cop where earlier he had a carload of policemen guarding him in a government-owned vehicle.
The price of loyalty
Law Minister Hans Raj Bhardwaj and Attorney General of India Milon Banerjee both owe their jobs to the presiding deity at 10 Janpath.
Interestingly, when the Supreme Court heard the plea for lifting the stay on the holding of the biennial Rajya Sabha election under the amended law, Banerjee, the highest law officer in the land, more or less sat quietly watching the proceedings while ace lawyer Gopal Subramaniam presented the government's case in his usual confident manner.
In normal circumstances, the brief should have been led by the AG and not an outside lawyer, however capable. You could never have imagined the NDA government's AG, Soli Sorabjee, twiddling his thumbs in the courtroom while someone else presented his government's case in a crucial matter.
The incorrigible Ram
Remember controversial lawyer Ram Jethmalani, who insisted on contesting against Atal Bihari Vajpayee in Lucknow and ended up forfeiting his security deposit?
That humiliation in the people's court has not weakened Jethmalani's resolve to help solve the Kashmir dispute.
He has since paid obeisance to the court at 10 Janpath and, according to our usually credible sources in Sonia Gandhi's durbar, is keen to follow up on his Kashmir Committee initiative.
Of course, Jethmalani would like nothing better than to be given Cabinet minister status to advance his quest for a solution to the vexed problem.
Natwar tries to improve his image
External Affairs Minister K Natwar Singh sure knows a thing or three about how to rile people and make enemies.
After delivering himself of some really awful undiplomatic statements in the early days of his ministership, Natwar did some fire-fighting, throwing in the name of the late prime minister Rajiv Gandhi to justify some of his remarks and summoning friendly English-language scribes to bail him out of the controversy.
As part of his image-correction exercise the other day, Singh invited a dozen or so editors of some regional-language newspapers and launched into a harangue, reminding them that he has a foreign degree and knows his job well.
At the outset, he had laid the ground rules for the meeting: it was to be strictly off the record. So, midway through the talkathon, when he found an editor taking down notes, Natwar Singh stopped mid-sentence and ordered him to stop writing. "Aap nahi ruk gaye to main iss kaagaz ko phaad doonga [If you do not stop taking down notes, I will tear the sheet of paper]," he thundered.
Since others were making mental notes of the ministerial gems, one of the editors present did not approve of Natwar Singh's angry tone and quietly left the meeting.
Interestingly, the minister also forgot the Urdu couplet that he had supposedly recited in his telephonic conversation with his Pakistani counterpart two days earlier, which, thanks to the amiable external affairs ministry spokesman, had been duly reproduced in some Indian papers the previous morning.
Illustrations: Uttam Ghosh
Capital Buzz


What do you think about the story?








Read what others have to say:





Number of User Comments: 5








Sub: ''Man''mohan Singh?

Quote: >>>... Manmohan Singh is "a gentleman trapped among crooks,"...<<< Unquote To be a "gentleman", i.e., an honest person, it requires courage and willingness to ...


Posted by Dr T S Raman









Sub: Predicting the past?

Both astrologers and meteorologists are very good at predicting the past.


Posted by Dr T S Raman









Sub: NATWAR SINGH'S TRACK RECORD

Natwar Singh, though retired for long as Foreign Secretary, has not overcome the authoritative and visionless mind set of a beauracrat, even decades later, and ...


Posted by N.Narasimhan









Sub: Babaji -- & Virendra Kapoor

My Dear Sir, I have been a fan of your writings since late 1970s, particularly after you 'residential visit' ti TIHAR, If I can remember ...


Posted by Vinod Tuli









Sub: OM satya

May his words become a reality and put these congress goons back where they belong; that, of course, is a back burner.


Posted by Kumar






Disclaimer