Home > News > Report

Sikhs mark Op Bluestar anniversary

Onkar Singh in Amritsar | June 06, 2004 15:03 IST
Last Updated: June 06, 2004 15:54 IST



On June 6, 1984, the army launched Operation Bluestar to flush out terrorists from Golden Temple, the holiest Sikh shrine.

On Sunday, the twentieth anniversary of the event, Jaspal Singh Manjpura, 25, of the All India Sikh Students' Federation, attracted attention at Akal Takht in the Golden Temple complex, when he raised slogans of 'Khalistan Zindaabad'.

Operation Bluestar, 20 Years On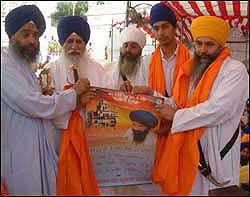 But there were no takers among the thousands of devotees who had gathered to pay tributes to those killed during the operation.
A Punjab University student, Manjpura called former chief minister Parkash Singh Badal a traitor.
"People like Parkash Singh Badal, who are corrupt to the core, should be removed from the political scene and honest people should be brought in, otherwise the dream of Sant Jarnail Singh Bhindranwale [a preacher turned separatist who headed the Khalistan movement and ran his terrorist campaign from the Golden Temple] will never become a reality," he said.
Supporters of Bhai Amrik Singh, who was killed during the operation, distributed calendars depicting him and a shattered Akal Takht.
Amrik Singh was from Damdami Taksal, which was headed by Bhindranwale, who was also killed.
Prominent among those who were present at the Akal Takht were Badal, former Shiromani Gurdwara Parbandhak Committee presidents Bibi Jagir Kaur and Kirpal Singh Badungar and Simranjit Singh Mann, president, Akali Dal-Amritsar.
Ishwar Singh, Bhindranwale's son, and Manjit Singh, Amrik Singh's brother, were also present along with Bibi Kiranjot Kaur, who brings out a magazine called Sant Sipahi.
The programme, which lasted a little over an hour, began with Gurbani recital, which about five to seven hundred Sikhs heard in rapt attention.
In his concluding remark, Joginder Singh Vedanti, jathedar (high priest), Akal Takht, said Operation Bluestar continues to disturb the Sikhs even today.
Vedanti criticised the action of the then government. "There was an attempt to demolish the symbol of international brotherhood and world peace -- Shri Harminder Sahib and Shri Akal Takht Sahib -- by our own elected government, particularly on a day when thousands of Sikhs had gathered here to commemorate the shahidee divas (martyrdom day) of our fifth Guru, Arjun Devji," he said.
He regretted that the large collection of books and paintings and other material seized during the Operation Bluestar has not yet been returned to the SGPC.
More reports from Punjab
Read about:
Striking a Discordant Note


What do you think about the story?








Read what others have to say:





Number of User Comments: 9








Sub: Shamed on Gandhi and Indian Government

The whole western media was banned from punjab during 80's and only state controlled India media was allowed to post articles on sikhs and punjab ...


Posted by Sukha Jinda









Sub: Operation Bluestar Anniversary

It is particulary disturbing to read the comments of the high priest Vedanti criticising the action of the then government in crushing the terror, which ...


Posted by Hiten Thakkar









Sub: Sorry

All Sikhs living abroad are with Sikh Sangat of India. We all are sorry for the action taken by government of India in 1984 by ...


Posted by Amrit









Sub: Sikhs Mark Op Bluestar Anniversary

Whether it was a historic blunder or a necessity for preserving sovereignity & Integrity of the country, our sikh brethern should now accept Op Bluestar ...


Posted by Sudheer Parakala









Sub: Mrs. Gandhi played politics?

Dear Rediff, Was the build up of Bhindranwale orchestrated by Mrs. Gandhi? If so, was it to check-mate the Akalis? What would Mrs. Gandhi had ...


Posted by Prashanth






Disclaimer