Home > News > First Look


The Lion of Baghdad

July 28, 2004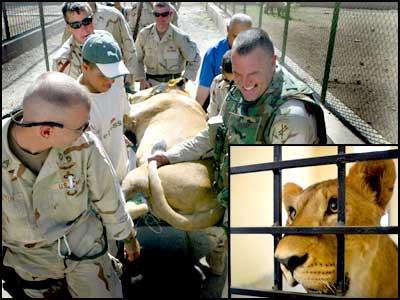 Uday Hussein thought big cats symbolised his manhood!
The exotic animals kept by Saddam Hussein's elder son -- who was killed in a shootout with US forces last year -- were recently tranquillised and moved from the heavily-fortified Green Zone complex, which houses the interim Iraqi administration and the US embassy, to the Baghdad zoo.
The Baghdad zoo, once the largest zoo in the Middle East, is now left with only 80 animals.
It includes 10 lions, a tiger, two bears, a camel, some ostriches and two very tame cheetahs that once belonged to Uday who liked to keep such exotic animals.
Plans to relocate the lions to the wilds of Africa were scrapped as Iraqi officials feared that surrendering the animals to foreigners could make them a target of angry terrorists.
After campaigning unsuccessfully for funds to build an enclosure at the zoo, the US army's First Cavalry division eventually came to the rescue, donating $130,000 (about Rs 65 lakhs or Rs 6.5 million) to complete the project.
US army sergeants transport one of Uday Hussein's lions from his palaces inside the Green Zone to the Baghdad zoo.
Photographs: Joe Raedle/Getty Images