Home > News > PTI

Another Dawood aide deported to Mumbai

July 20, 2004 00:12 IST
Last Updated: July 20, 2004 13:03 IST



Tariq Parveen, an aide of underworld don Dawood Ibrahim, was deported from Dubai to Mumbai and arrested by the police late on Monday night.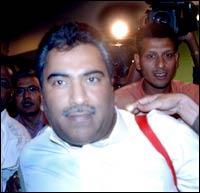 He is wanted in connection with the Sara Sahara illegal shopping complex case in south Mumbai involving underworld gangster Dawood Ibrahim's younger brother Iqbal Kaskar, who was deported last year.

Parveen had expressed a desire to Dubai authorities to return to India and face the legal consequences for the crime he allegedly committed before he fled to the Gulf country.
More reports from Maharashtra
Read about: Telgi case | Mumbai blasts


© Copyright 2006 PTI. All rights reserved. Republication or redistribution of PTI content, including by framing or similar means, is expressly prohibited without the prior written consent.






What do you think about the story?








Read what others have to say:





Number of User Comments: 1








Sub: tarique

deporting hard core criminals from dubai is never been a effort by indian or mumbai police.i think this is an another plan to estlablish thiere ...


Posted by satish malavade






Disclaimer