Home > News > The Gulf War II > Report

Saddam Hussein appears in court

July 01, 2004 16:08 IST
Last Updated: July 01, 2004 20:54 IST



Former Iraqi dictator Saddam Hussein on Thursday appeared in a court to hear the charges, including 'crimes against humanity', that he will face when his case goes to trial in 2005. This is the first time the US has allowed his images to appear on television since he was captured in December 2003.

The appearance in court was not publicized and neither was the venue or the time. Some other members of his government were also brought to the court.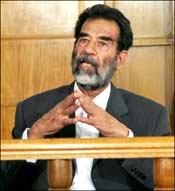 In images broadcast by the BBC, Hussein could be seen speaking with someone who appeared to be a judge. But others present at the venue were not shown, reportedly for security reasons. Hussein appeared tired but in good shape sporting a moustache and trimmed beard. There was no audio.
Select reporters were allowed to cover the event though live transmission of the proceedings was not permitted. Incidentally, the deposed leader is believed to have told the court that US President George W Bush is the 'real terrorist'.
| | |
| --- | --- |
| | Also Read |
| | |
Hussein is now officially in the custody of the interim regime installed by the US, which invaded Iraq in March 2003, but is actually held by American troops at an undisclosed location.
Photograph: Karen Ballard-Pool/Getty Images


What do you think about the story?








Read what others have to say:





Number of User Comments: 8








Sub: Punish Bush

Saddam told the truth. Bush is the criminal


Posted by Jigar









Sub: Peace

Bush did a wrong guess on Saddam otherwise if not for Oil. I think saddam hussain is not related with 9/11. He might killed their ...


Posted by Girish K.P









Sub: very much true,

bush destroyed one nation and he is responsible for everyday death in that country. so this daily death and bombblast will tell the world who ...


Posted by tony









Sub: Saddam Hussein Trial

This is America's new trick to divert the attention of Iraqis. Bush has conveniently shifted from AlQaida to Iraq and now started a Banana court ...


Posted by Rashed









Sub: saddam

what does america wants to achieve by putting saddam on trial. US launched military action against Iraq reason behind posession of AMD. The UN report ...


Posted by kd






Disclaimer