Home > News > Report

Meet the man who will cage the leopards

A Ganesh Nadar in Mumbai | July 01, 2004 10:02 IST
Last Updated: July 01, 2004 18:21 IST



Mumbai is a jungle alright. A concrete one, where the air is heavy with soot, the occasional tree is dwarfed by several skyscrapers and honking horns assault the eardrums.

People in a hurry, cars in a greater hurry and chaotic traffic jams are what you associate with this urban cauldron. But by no stretch of imagination can one think of man-eating leopards.

The last couple of months, however, has seen India's financial capital curl back in terror at the killing spree unleashed by the big cats.

The city's lungs are the green and densely wooded Sanjay Gandhi National Park in suburban Borivali. That is also the home for leopards, along with other animals.
| | |
| --- | --- |
| | Also Read |
| | |
People in Aarey milk colony, Goregaon, Powai and Mulund, localities adjoining the park, are now mortally scared. They should be. As of Thursday, the big cats had killed 10 people.

Almost everyone wants the leopard menace to be tackled effectively. There is also a growing realisation that a constantly expanding metropolis like Mumbai has encroached upon the natural habitat of the leopards. First in the form of slums, and then as high rises.

Under attack from petrified residents, the state government has finally called in an expert -- Ashok Kumar N Khadse. An Indian Forest Officer based in Pune, he is an expert at catching leopards. And he is in Mumbai to get rid of the killer cats.

Khadse, who is the District Forest Officer of Pune, was first called to help in July 2000 when people of Junnar forest area, in Pune district, came under the attack of leopards. The situation became so bad by August 2001 that there were at least two attacks every week.

After investigating the attacks, the quiet and no frills officer found out that the leopards often hid in the heavy undergrowth on the banks of the area's canal . The undergrowth was promptly cleared. The area also had lots of sugarcane fields, which provided an ideal cover for the leopards.

Another reason, he discovered, was that many of the farmers after their day's work would stay back in the fields rather than go to their houses, making them an easy target during the night. Leopards are nocturnal hunters.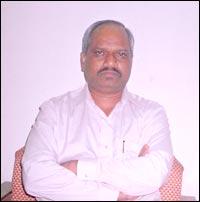 He told rediff.com that leopards in those areas would attack dogs, goats and livestock when it couldn't find food in the jungle. But when the residents started protecting their livestock, the leopards started attacking humans.

The leopards also multiply fast as they have a short gestation period of three months. "A leopard can deliver 2-3 cubs in an year," Khadse said.

So how did Khadse tackle the menace in Pune?

He began by educating the people not to venture out after dark. He then got special cages constructed to capture the killer cats.

The cages were designed in such a way that the prey animal would not be hurt, while at the same time luring the big cat inside. The cages were also light and flexible enough to be transported into the dense jungle.

Once the traps were set the villagers were asked not to disturb the area. And when the leopard entered the cage, a spring would activate the door shut. The prey animal would be in a smaller cage, within the bigger cage, safely out of reach of the leopard.

The trapped leopard would then taken and released deep into the forest. The system was successful and a total of 106 leopards were captured . He was awarded a gold medal by the Maharashtra Government that year for his efforts.

The icing on the cake is that the Guinness Book of World Records will also soon list his achievements.

Khadse plans to implement the same strategy against the Mumbai leopards. The officer, who surprisingly does not have a cell phone, is clear that his men will not enter the park to capture leopards. "We will catch only those that stray out," he said.

These leopards will then be transferred to other protected areas. They have also released 50 pigs and rabbits into the forest as food for the leopards. Khadse, who has brought his own range officers from Pune, plans to study the fringe areas of the forest so that traps can be set.

"We are using dogs as prey as goats and pigs quieten down very fast. Dogs keep barking for a long time. Every cage will have three pairs of prey. The dog will be taken out and changed every eight hours," he said.

So far three leopards have been caught . One has been sent to Amravati and the other two will be sent to Tadoba.

From now on Khadse will be patrolling the fringes of the national park every night so that the people of the affected localities can sleep better.

Photograph: A Ganesh Nadar



More reports from Maharashtra
Read about: Telgi case | Mumbai blasts



What do you think about the story?








Read what others have to say:





Number of User Comments: 5








Sub: whom leopards fera

leopard man is doing an excellent job. but it is we are encroaching on leopard territory and not vice versa. hope we have a few ...


Posted by sanjay sen









Sub: Big Cat

Its surprising that the leophard attacks are increasing day by day killing human beings,the protective moves taken by the authorities had hardly worked till date.But ...


Posted by S.Sakpal









Sub: isn\'t it too late?

Our Government arrangement doesn't stop amusing me. Why is it that we always wait till things run out of hand. Any subsequent remedy will only ...


Posted by NILESH VAGAL









Sub: Leopard city

Amazing! Only in India. What a story. What I would like to see though, is these beautiful animals to be preserved in a natural habitat ...


Posted by Shivi









Sub: Meet the leopard catcher

this was a very good move. the leopards & humans both will be safe. the big cats will be returned back to a safe surrounding. ...


Posted by Mrs. Nandini N. Deshpande






Disclaimer