Home > News > PTI

Purulia arms drop: Bleach may be set free

January 30, 2004 12:02 IST
Last Updated: January 30, 2004 18:18 IST



A decision on releasing Peter Bleach, convicted in the Purulia arms drop case, is likely soon.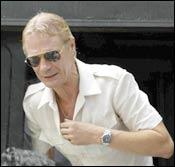 Bleach (51) is serving a life term in a Kolkata prison for dropping crates of missiles, rifles and rocket launchers in Purulia district of West Bengal on the night of December 17, 1995.
The British want him to be released.
The demand 'is being actively considered and this would be possible', Deputy Prime Minister Lal Kishenchand Advani told reporters after a 30-minute meeting with his British counterpart David Blunkett in Delhi.
The demand had gained weight after India pardoned and released the five Latvian crew members of the Russian plane used to drop the arms and ammunition.
| | |
| --- | --- |
| | Also Read |
| | |
Bleach had moved the Calcutta high court in September 2002 claiming that he was being discriminated against. He had also resorted to a hunger strike to press his demand for the same treatment as the Latvians.

"We have discussed the matter with the law ministry and they have also said this could be possible," Advani said.

Blunkett said, "I am very very pleased. This would improve my reputation back home as I am known for sending and keeping people in prison. I am very pleased that the minister (Advani) is prepared to let one out."

British Prime Minister Tony Blair had discussed Bleach's case with Advani in London in June 2003. India had then offered to review the matter.


More reports from West Bengal


© Copyright 2006 PTI. All rights reserved. Republication or redistribution of PTI content, including by framing or similar means, is expressly prohibited without the prior written consent.






What do you think about the story?








Read what others have to say:





Number of User Comments: 2








Sub: RE: Purulia arms drop: Bleach may be set free

It seems to be quite apparent that the reconsideration of Bleach case is politically motivated. However, it would certainly undermine the judicial system and its ...


Posted by Kul Bhushan









Sub: Advani Should Answer The Nation

When Purulia Armsdrop happended,the Congress was the ruling party under the leadership of P.V. Narsimharao.The BJP,the then Opposition party made a big hue & cry ...


Posted by Makarand Sane






Disclaimer