Home > News > PTI

Go vegetarian, pleads Yana Gupta in new ad

January 29, 2004 15:38 IST
Last Updated: January 29, 2004 19:44 IST



Would you go vegetarian if Yana Gupta appeals to you submerged in crystal-clear water, surrounded by a school of exotic fish and wearing an alluring mermaid costume?

People for the Ethical Treatment of Animals thinks some people will and roped in the Czech-born model for their new advertisement, which is part of its campaign to promote vegetarianism.

It urges people to leave the fish in the sea to where they belong and to go vegetarian. It was shot by ace photographer Jatin Kampani, a release from PETA said. The tagline Try to Relate to Who is on Your Plate goes on to explain that 'Fish are Friends, not Food'.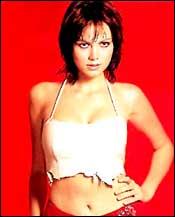 "There are so many delicious and nutritious vegetarian options to choose from these days - in every part of the world - that there's no need to kill fish or any other animal for food," says Yana Gupta, who is vegetarian and who also tries to avoid dairy products. "A vegetarian diet is good for your health, the animals, the environment and your taste buds," she adds.

According to PETA, fish feel pain and suffer and those who are caught for food are often impaled, thrown, crushed and mutilated - all while still live - and then left to die slow and painful deaths by suffocation.

"It is unthinkable that fish do not have pain receptors: they need them in order to survive," says microbiologist Professor Frank Hird.

In commercial fishing, along with the fish, unintentional victims such as dolphins, birds and turtles are captured in huge nets and dragged along the ocean floor for hours along with rocks and debris.

External link: PETA website


More reports from Maharashtra
Read about: Telgi case | Mumbai blasts


© Copyright 2006 PTI. All rights reserved. Republication or redistribution of PTI content, including by framing or similar means, is expressly prohibited without the prior written consent.






What do you think about the story?








Read what others have to say:





Number of User Comments: 5








Sub: hi

hey yana, how u doing? nice to hear that u wanna make this a vegetarian world. but people can't change overnyt. i'd like to have ...


Posted by Richard









Sub: Regarding Go vegetarian pleads Yana Gupta

What Yana gupta must first do is teach family planning to all the fishes in the sea. If man does not eat them or their ...


Posted by C.Shanmuganathan









Sub: Life

What makes PETA think that plants do not have life? Research hsave long proved that they too have life. Otherwise how do plants grow or ...


Posted by indro









Sub: Going vegetarian

Very evocative and thought-provoking appeal and coming from such celebrities as PETA has been consistently featuring for the cause-very prudently and diligently-should successfully produce massive ...


Posted by R.S.GOVINDARAJAN









Sub: Not again please....

Sorry, I will not go vegetarian if Yana or any other person, significant or insignificant, appeals to me. I'd rather take all those fish in ...


Posted by Jones






Disclaimer