Home > News > PTI

Alliance with DMK soon: Sonia


Tara Shankar Sahay in New Delhi | January 17, 2004 18:09 IST
Last Updated: January 17, 2004 21:55 IST



Congress president Sonia Gandhi on Saturday indicated her party would soon formalise a tie-up with the Dravida Munnetra Kazhagam.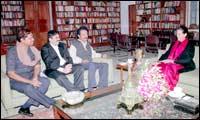 Briefing reporters after a 90-minute meeting with top DMK leaders -- former Union minister T R Baalu, party's deputy general secretary M K Stalin and Dayanidhi Maran, son of former Union minister Murasoli Maran -- Gandhi said she would meet DMK chief M Karunanidhi in a few days.

Describing the talks as preliminary, Gandhi said: "It is going to be a forward movement and we shall meet again."

She said the discussion was a follow up of senior party leader Manmohan Singh's meeting with the DMK chief in Chennai last week.

Stalin said the talks were focused on strengthening the alliance and the political situation in the state.

Asked whether the issue of seat sharing figured at the talks, he replied in the negative.

Earlier, ending over two decades of differences between the two parties, Gandhi had telephonically greeted Karunanidhi on the new year's day.

 


More reports from Tamil Nadu
Read about: Cases Against J Jayalalitha | Cauvery Water Dispute


© Copyright 2005 PTI. All rights reserved. Republication or redistribution of PTI content, including by framing or similar means, is expressly prohibited without the prior written consent.






What do you think about the story?








Read what others have to say:





Number of User Comments: 3








Sub: SONIA - DMK

This is one more feather in her cap by succeeding to bring DMK in her camp. However, it seems that Sonia is concenrtrating on alliances ...


Posted by Firoz Aziz Sayyad









Sub: Congress's Alliance with DMK??!!

This is an unholy and impractical honeymoon! Right since 1991 until the DMK enjoyed the power and credit with the help of NDA in the ...


Posted by pghari









Sub: betrayal

its the heights of betrayal by dmk and congress.congress blamed dmk for its involvement with ltte and rajiv gandhi s assasination.now they have forgotten all ...


Posted by DR P SASHIKUMAR






Disclaimer