Home > News > Report

All for a cause: 100,000 in six days

Vijay Singh in Mumbai | January 15, 2004 01:48 IST



When about 100,000 people zero in on a city for six days, it surely must be for a big cause.

The World Social Forum meet, to be held in Mumbai from January 16-21, will bring together those who believe there is an alternative to globalisation and the current world order.

Nobel laureates Shirin Ebadi and Joseph Stiglitz, renowned political theorist Samir Amin, Pakistani human rights advocate Asma Jehangir and homegrown environmentalists Medha Patkar and Vandana Shiva are just some of the delegates expected at the meet.

The WSF is expected to host approximately 15,000 foreign delegates, almost 30,000 from India and 55,000 participants from across the world. It's catch line: Another World is Possible.

With so many people crowding the city, security concerns flood one's mind. So how exactly are the organisers taking care of it?

Meena Menon, one of volunteers in charge of security, told rediff.com, "We are going to arrange our own security. Approximately, one thousand volunteers will be assigned to security related tasks. We have hired around 40 private security guards to protect costly equipment."

What about the VIPs? Menon said Iranian Shirin Ebadi would be provided additional security by the Mumbai police.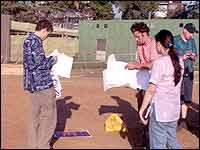 The organisers don't seem to be overtly bothered by scary predictions of utter chaos, as many of the volunteer security personnel that Menon talked about are college students.

Asked why they were at the WSF, one of them, Sonali Gonsalves, said, "We are very excited to be here. It is big opportunity to gain hands-on experience on working at a big event where people from different countries are participating."

Gonsalves, a student of Nirmala Niketan College of Social Work, said the payment of Rs 100 per day, arrangements for food and travel were the other reasons for taking up the work.

And they do make good security personnel if one goes by the thoroughness with which they issued and checked registration cards.

But the security guards hired to protect `costly equipment' seemed unaware what the excitement is all about. One of them, Ravi Vengulekar, said, "I only know that some big people are coming here. I have no any idea about globalisation or another world."

Quite surprisingly, the Mumbai Police seems to have adopted a hands-off approach. Joint Commissioner of Police (law and order) Ahmad Javed told rediff.com: "So far, the police has not received any request from the organisers for security. There is no threat to the event but we will nevertheless deploy adequate policemen to control the crowd."

"We are yet to get down to the nitty-gritty of it, he added.

But a sudden influx of 100,000 people is a logistical nightmare. So many people moving towards the venue in the morning and back to their respective hotels and paying guest accommodations in the evening may lead to chaos in the road.

But Ahmed says, "It will not pose a problem. The Mumbai police is experienced in handling large crowds. Moreover, we don't expect the delegates to move around the city throughout the day. So, we will be under pressure only in the morning and in the evening."



More reports from Maharashtra
Read about: Telgi case | Mumbai blasts