Home > News > Columnists > Sukanya Verma

February 26, 2004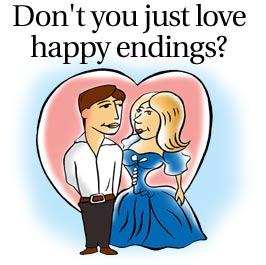 Everyone has a child in them. Some live it. Some abort it, figuratively of course. I live mine to the hilt.
It all began with the invention of toys. How? When? Where? I do not know. What I do know is that mothers and toys are God's way of saying 'I love you.'
Toys were an important part of growing up for me. Truth be told, I still collect toys. I insist on buying McDonald's Happy Meals. Not because I am a burger buff. But happy meals mean freebie toys like Disney collectibles.
The last time my heart craved for a toy was eleven days ago. It was a sleek Spiderman figurine striking an action pose. I came to my senses after reading the price tag and promptly placed the friendly neighbour back on the shelf.
I recently heard about Barbie and Ken splitting up. The news wasn't heartbreaking. Unlike her phirang counterpart, my Barbie and her desi Ken live happily ever after in the confines of my dusty jute bag.
This column is dedicated to my first Barbie. And the ones that followed later.
If my memory does not fail me, it happened in 1986: Barbie became a part of my little world.
A spoilt brat at eight, I always succeeded in getting what I want. So when Barbie commercials claiming to be, 'every little girl's dream come true' began doing the rounds on television and magazines, they found a keen buyer in me.
It was a Saturday. Ma had a half-day from work. She promised to be back home around four in the afternoon. I excitedly stood on my neighbour-cum-babysitter's balcony waiting for D-moment. My babysitter's children were around my age. They shared my enthusiasm over Barbie as well.
Then it happened. A known face stepped out of a rickshaw holding a nicely wrapped parcel in her hand.  It was my mother.
I rushed out of my neighbour's apartment, ran down the stairs and advanced towards Ma who was still paying the rickshaw driver. Without further ado, I impatiently grabbed the parcel from her grasp. Needless to say, that moment, I was the happiest eight year old alive.
My band of cronies accompanied me home. I carefully opened the Akbarally's wrapping paper and gasped loudly. It was a 'Happy Birthday Barbie' placed carefully in a sweet-smelling pink box. Clad in a pink party dress with white polka dots, she sported pink ribbons in her long curly blonde hair and matching high-heeled pink shoes. My mother also brought a purple outfit and accessories. Just in case Barbie felt like changing into something casual.
But if you think that was the end of my Barbie craze. You couldn't be more wrong. The Barbie fever was rising by the minute. New Barbies hit the toy stores -- My First Barbie, Peaches 'n' Cream Barbie, Doctor Barbie, and Fashion Barbie etc.
If little girls went berserk over Barbie, boys craved for He-Man and Skeletor dolls. I had both. My brother and I obviously didn't buy the 'sharing is caring' philosophy. We both had our individual set of He-Man and Skeletor each. But I digress.
Basically having a Barbie was a status symbol of sorts. Something along the lines of today's teenagers who consider themselves incomplete without a cell phone.
I revelled in the stupidity of it all. I even enrolled myself as a member of the Barbie fan club and received daily updates, Barbie badges, stickers and bookmarks from them.
My best friend Sharon Baker was the proud owner of five Barbie dolls as opposed to my humble one. What set her Barbie collection apart was all her dolls were imported straight from the United States. Unless you compare the American Barbies with the Indian ones in person you will notice the difference. The American's hairstyle, eye colour, plastic and outfit were somewhat superior to the Indian one. But this is not what bothered me. Sharon had Ken, Barbie's hunky sweetheart. I didn't. Around that time, Ken hadn't entered the Indian market. I felt terribly left behind.
Determined like never before, I drew a game plan. I had to be one up on her in the Barbie game. If she had five, I would have six of those shapely dolls.
Summer vacations were the best time to begin. During a visit to my favourite aunty in Delhi, I fleeced her into buying me My First Barbie. Fed up with my relentless begging, my not-so-favourite aunt gave in to my demands for a Doctor Barbie.
When I returned home from vacations, I was rich by two Barbies. I sweet-talked my mother into buying me the slightly cheaper Fashion Barbie by convincing her that if I got this one last doll, I would figure in the top five ranks of my class. I made it to the 14th position. Not bad, right?
I had four Barbies now. Enter Raksha Bandhan. I asked my brother to gift me Barbie's little sister, Skipper. Since the money wasn't going from his pocket, he was more than willing.
I was on par with Sharon. But I still didn't have Ken. You see, playing with Barbies wasn't all that much fun without a guy to get them married off to.
I knew what the answer would be if I asked for one more Barbie. So I smartly saved some money and bought a cheaper and local version of Barbie from a nearby shop. I chopped her hair. Since she was already wearing a shirt and pant, clothes weren't an issue. I drew a moustache on her face with a sketch pen. She wasn't she anymore. I had turned her into an absolutely horrifying interpretation of Ken. I had created a monster. But at that point, I was a genius in my eyes.
Now I had four Barbie dolls, a Skipper and an adulterated Ken. I also hoped to con my mother into buying me Barbie's dollhouse and bath set. I wasn't so lucky this time around.
That never prevented me from hoping otherwise.
Most kids grow out of dolls and toys. I tried following suit. I realised I was lying to myself. The sight of imaginatively dressed Swan Princess Barbie or Mermaid Barbie still fascinates me.
I have preserved all my toys and dolls, Barbies too. Oh did I mention my Doctor Barbie married the hideous Ken in the
winter of 1989?
Don't you just love happy endings? 

Illustration: Uttam Ghosh
Guest Column


What do you think about the story?








Read what others have to say:





Number of User Comments: 7








Sub: Absolutely fantastic

You write amazingly well. Keep it up. Just too great... your sense of words and presentation is excellent.


Posted by panka









Sub: ''Ken And Barbie''

Its true that the westenes are immature,hysterical an childish enough to believe in rubbish such as UFO abductions & the recent separation of Ken and ...


Posted by pramod nair









Sub: Hehe

Very funny, very true, had fun reading your article and definetly relating to it. I was also a toy freak, played with my dolls, stitched ...


Posted by Anita









Sub: Lovely words

This lady writes amazingly well. Good writing Sukanya. It seems you have all those senses which are slowely dying in all of us. Like ur ...


Posted by Tanmoy Chakrabarti









Sub: this is so darn true!!!

gosh after reading this article, i felt i wasnt the only crazy one around. brought back a couple of lovely memories of buying barbies and ...


Posted by hina






Disclaimer