Home > News > Message Board

February 24, 2004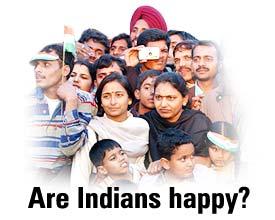 India is going great guns notching up impressive growth rates. Incomes are rising and material goods are easily available. 'Feel-good' is the dominant theme.
Still, when it comes to happiness, Indians are not well placed. A recent international survey conducted in 65 countries by the World Values Survey put India at 21 on the happiness scale.
Believe it or not, poor, backward Nigeria had the highest percentage of happy people. The US ranked 16th, Australia 20th, and Britain 24th.
So tell us. Are you feeling good? Are you happy? Is Gross National Product an adequate indicator of happiness?


What do you think about the story?








Read what others have to say:





Number of User Comments: 27








Sub: Is INDIA Shining?

This message board was posted long back I suppose which made me read the messgaes here. To my surprise and horror, my apprehensions have come ...


Posted by Adonis









Sub: india is shining n surging ahead...........truely

the bjp lead nda govt has shown tht if u hav the wil even at this juncture of political scenerio u can give a good ...


Posted by prem prasad shetty









Sub: I am Happy

Yes, I am Happy ! Not only me, my entire family, my colleagues, my friends all are happy.


Posted by jayavardhan









Sub: Feel good factor

Well,I really cannot offer my comment on the feel good factor because I am doing business relating to Environment (Protective covers)and due to the monsoon ...


Posted by N K Aggarwal









Sub: Yes. More Indians are happy than before

Yes. More Indians are happy than before. We are happier than any other previous rule. We should give the credit to VAJPAYEE. But, if voted ...


Posted by PLS






Disclaimer