Home > News > Columnists > Archana Masih

Cheers, these are the real heroes

February 19, 2004



T

his column is about a bunch of boys and girls -- all below the age of 23. They did not know each other but had come together chasing a common dream.

The dream to fly.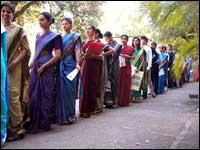 Mandakini Sharma is 21. She lives in Ahmedabad, teaches English and Maths in a school, dislikes wearing a sari and wants to streak like a jet stream.
"I want to reach somewhere from nowhere," she says. "To be transported from the ground to the air."
To find her spot in the sky, she had travelled to Mumbai and was standing in a long interview queue, under the blistering sun. Her makeup was smudged and tiny beads of sweat glistened on her pretty face.
The delicate chain supporting her maroon kundan earrings had come undone, her black bindi had shifted off-centre and she was upset that the interview call letter specified that girls had to come dressed in saris.
Mandakini was one of 31,000 candidates called for an interview by Air-India for its cabin crew.
The airline says '400 plus' will make the cut.
Her father had travelled with her and couldn't help with the sari.
The first round of the interview was about 'personal presentation' and her sari wasn't neatly draped. She had no clue about what she would be asked and since the call letter arrived by post just two days ago, everything was too rushed for her.
The others around her mentioned that they would be asked to introduce themselves at the interview. But she was anxious and told us twice to go and ask those who had finished about the questions asked.
She stressed that if she got the job she would have a secure government job till she turned 60.
She would have a high standard of living.
She would see the world.
By the time we found some who had already appeared for the interview, Mandakini had been summoned into the compound. Behind the huge gate, where under a pandal she would have sat with many others awaiting her turn for a one-on-one.
Vipul Desai is 23. He arrived by the morning train and had come from the middle of his civil service entrance test preparation.
He has spent the last 18 months studying for that test. Eight of his best buddies are chartered accountants and make Rs 35,000 every month. They tell him it is time he too found a job.
The civil services test, he says, is like a pack of cards. Likewise, his selection as a flight purser also depended on luck. The  last time luck had struck him a horrid blow.
Air-India had called him for an interview, but his girlfriend passed away the night before and Vipul did not make it.
This time, he hasn't bothered much about the clothes he would wear. Any shirt and trouser was good. He stood calm, composed and said if he became a purser, he would lock all his books and never look back.
Being an IAS officer was prestigious and dignified but being an Air-India purser was more fun. It was as secure and had a prestige of its own. He had learnt French in Baroda and thought he had a much better chance here as cabin crew than becoming a collector in a district headquarter.
Zamila Rastogi is 23. She has wanted to be an airhostess 'since birth.'
She loves the service industry and wants to travel internationally.
Her mother stands beside her in the queue with a plastic bag and says this profession will be ideal for her only child.
Zamila works in a hotel, her hair is neatly tied, so is her sari. The three or four months as a receptionist has helped her master the intricacies of the 6-metre garment and she makes a confident picture.
But says she is nervous -- only because she wants the job badly. In less than an hour, she will face the second interview of her life. It all depends on luck and has a smug response to the possibility of not making it to round two.
"I have no answer for that. No comment."
Aparna Velani is 22. She did not make it.
At the interview she was asked to describe herself in one minute. "Beautiful -- not outwardly but inwardly" was her opening line. She went on to tell them that she was an MCom student, she liked painting, that being an airhostess was respectful.
Half an hour later she sat in an auditorium where against her name was announced -- 'disqualified'.
If she was disappointed, at 22 she dealt with the rejection most elegantly.
As she stood outside waiting for her sister, Aparna's face was bright. Her makeup perfect. The eyelids were brushed with a tasteful mix of blue-purple eye shadow. Black kohl bordered her large expressive eyes, the circular rim of her contact lenses glistened in a neat ring around its centre.
She knew that an imperfect vision meant a very narrow chance at becoming a flight attendant. Now, the rejection at Air-India had made her options even slimmer.
"All other airlines want perfect vision, I don't have much choice."
Viju Thomas is 23. He made it.
He is a smooth talker. Works in a call centre and had his company's ID hanging around his neck long after the Air-India interview was over.
He has no relatives or friends in Mumbai and arrived in the city at 3 am. He spent the early hours of the morning at the airport and believes every job is a gift from god.
He is an active church youth leader. Has worked on a contractual basis doing sales and made credit card recoveries from defaulters for a credit card company.
Confident of his communication skills, he knew he would clear round one. He wants the job because it is glamorous, is good money, healthy and hygienic.
If he doesn't make it, life will still go on.
***
Viju, Mandakini, Vipul, Aparna or Zamila are not famous. They are not rich. They do not have powerful parents.
These five, like numerous others, had travelled great distances. Some did not have enough time to make train reservations and most were accompanied by parents, siblings or relatives.
All of them waited by the side of a road. Towels shielding them from the hot sun, sitting on plastic chairs, on bags and suitcases, on the ground.
Anxious and hoping for the best.
They are struggling for a good job, hoping for a better life for themselves and their parents -- like many others who try everyday.
Their experiences are common to all of us. Their struggle, familiar, that we only need a tug to be reminded of it.
In their story is everybody's story. Of people giving their best to realise their dreams. Of people who may often look like blind spots in a milling crowd but are yet so real. 
Let's root for Viju, Mandakini, Vipul, Aparna, Zamila and the rest. Let's wish them the very best for their journey in the sky
All names have been changed
Photograph: Jewella C Miranda
Archana Masih


What do you think about the story?








Read what others have to say:





Number of User Comments: 16








Sub: good flyers

I personaly feel that the aticle was really nice nd motivating nd like to appreciate the efforts made by archana specially.................well done keep it up ...


Posted by Vijay Mashi









Sub: what a silly article!!

i kept reading the first story hoping that something uinteresting would come up in the end.but this was so bland and boring.what on earth is ...


Posted by aravindh









Sub: is this an article?

It sounds more like a documentary and also the guy who made it is from your clan! wonderful! Ms Masiha we can see some truth ...


Posted by sravan









Sub: Heros?

OK, these guys and gals appeared for an inteview for a company. Some got rejected. How does it make them Heros? I got up this ...


Posted by Ravilyn









Sub: real hero

good story


Posted by a.s.gupta






Disclaimer