Home > News > Interview

The Rediff Interview/Rhodes Scholar Swati Mylavarapu

December 20, 2004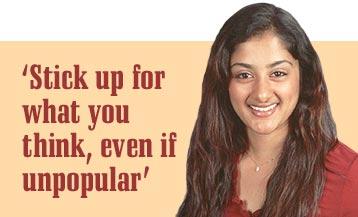 Swati Mylavarapu is one of the 32 recently named Rhodes Scholars for 2005 in the United States. She can study any subject of her choice for two to three years at Oxford, with her tuition and living expenses paid by the scholarship. Previous scholars include President Bill Clinton and recently elected US Congressman Bobby Jindal.
Swati is also the recipient of the Truman Scholarship, given to students who have shown strong interest in public life careers. She gave up studies leading to a medical career, and wants to study law and work for developmental agencies.
The 20-year-old Indian American spoke to Senior Editor Arthur J Pais about her inspiration, her travels in India and her idea of fun.
Who inspired you the most?
My parents (father Sundar, a businessman, and mother Vijaya, a toxicologist) have always encouraged me to pursue what I am passionate about. They tell me I don't have to be a doctor or engineer unless I want to be. They have been a continuing source of inspiration. I am grateful for what they have offered me and my sister.
Second, Nobel Laureate Amartya Sen. His theories of capabilities and functioning and the entirety of Development as Freedom are cool. His ideas teach me to be optimistic and inspire me to work on development. You can imagine how wonderful it was when I met him last year.
Also, my twin sister Chitra. Our interests are different -- she studies business. She keeps me the most grounded. I've learned how to turn idealism into concrete plans in part through her example.
Many Indian-American parents worry endlessly about daughters (in particular) going out on a date and similar things. What are your thoughts?
My parents did two important things. They taught us to aim as high as possible and work diligently towards it. They placed a lot of trust in us. After a certain age, they gave advice and allowed us to make our decisions -- even with regard to dating, within reasonable limits. The result is I date people, even non-Indians, but I make it a priority to work hard too.
A certain degree of independence -- dating, going away for college, selecting a non-traditional career path or something similar -- is important to help young Indian Americans find a footing outside the community. My parents have taught me to juggle important aspects of life but they have taken care not to juggle them for me.
How does one prepare for a major scholarship?
The Truman and Rhodes scholarships look for dynamic, optimistic young people eager to give back to their communities, and who have a plan to do so. Beyond that, the most important thing is to be yourself and to be familiar with your application.
The interviews, after all, are a chance to expand on what you have said on paper. This may mean sticking up for what you think (with well-reasoned arguments!), even if it's an unpopular idea.  
What should one not do?
Pretend to know the answer to something you have no clue about! An interviewer noticed I had taken courses on human rights and a class on Turkish art. He asked me what Sultan Suleyman would think about the Universal Declaration of Human Rights. I must have forgotten to read the assignment. Sometimes, 'I don't know' is okay as an answer.
What is your idea of fun?
I love to travel. My family takes lots of trips to national parks. I like spending time hiking and being outdoors. At school, I enjoy hanging out with friends and trying out new restaurants. I'm a fan of doing new things. I don't think you are too old for it. I started taking a pottery class this year.  
What moves you the most?
Powerful ideas and people with ideals and vision. Human rights, for example, open your eyes and help you think about old issues in new ways. I find it refreshing. People with ideals and vision inspire me, be it Nobel Peace Prize winners like Shirin Ebadi or peers at school. The visionaries make me feel we will be in safer hands.
What irritates you the most?
Pessimists and the weather in Boston.
What is the most adventurous thing you have done?
The last two summers, I travelled through much of India, largely on my own, doing research for school. I know that doesn't seem a big deal for an Indian American, but it was my first visit to India in eight years. I was a complete American in everything but appearance (although I dressed Western most of the time). Taking trains and auto-rickshaws, interviewing officials and general people, ordering pau bhaji on the road...
It was thrilling and a lot of fun. Getting to explore India gave the country a personal meaning for me. It's not just the country of my parents and cultural origin, it's now a place, a set of faces and experiences I can relate to.
Is there something you will never do again in life?
I'm only 20! I don't think I've done enough to know what I will never do again. My parents may be happy if I say I'll never leave home for more than eight months again. But I will not make promises.
You worked in Hyderabad to promote communal harmony. Tell us about your experience?
Religion has little to do with communal tension. It's easy to use religion as a mask or a facile explanation for deeper-rooted problems.'Hindu' versus 'Muslim' is an easy division to make, especially in a city with a historical legacy like Hyderabad. But most riots the city has seen are results of more complex socio-economic and political issues.
Claiming that communal conflicts are 'religious' is misleading as these are arguably more cultural distinctions than religious ones. The distinction is, unfortunately, often an excuse not to address underlying problems.
Did you have a religious upbringing?
My family and I celebrate a few major Hindu festivals. At times I go to the temple. Religion has been more of a cultural practice. It has been an opportunity for my sister and me to learn about our roots and how my parents were raised. I have found the cultural lessons very enriching.
What are you reading now?
Besides all the readings for classes I have to do? The last of the Harry Potter series at a whopping pace of 10 pages a week.
What does your bookshelf look like?
It has got a good mix of international novels and serious academic books. But it's not as large as I would like it to be. A selection I would recommend for anyone: One Hundred Years of Solitude, Development as Freedom, Reading Lolita in Tehran and My Experiments with Truth.
What are the books you wanted to read for long and haven't been able to?
The list is endless. A few that come to mind: Tocqueville's Democracy in America, V S Naipaul's The Enigma of Arrival, Naguib Mahfouz's Midaq Alley, Tagore's The Gardener.
What advice will you give Indians preparing to do field work in another country?
Go for it! It's a mind-widening, confidence-boosting activity. Odds are, you will cherish the memories forever. I have found that being open-minded and willing to try new things is critical. When I was in Central America, I was fascinated by the cultures and practices and enjoyed practicing Spanish. But I had to be cautious not to seem too trivialising or too 'American.' You are as much a novelty to the people you visit as they are to you!
How did you give up studying biochemistry?
I took a class that focused on development issues in Latin America. It turned into an opportunity to travel to Nicaragua and witness aspects of development policymaking. I have since been hooked by developmental studies.
What lessons did you learn during your visits to Nicaragua and elsewhere?
I knew soon that reading about 'development' in a classroom at Harvard is markedly different from walking the streets of Atítlan or seeing villages in Gujarat.
Do you call yourself an idealist?
An idealist with a dash of pragmatism! I talked about this in my application. Since I was young, I have had an ardent interest in helping others to help themselves.
How did the desire grow?
In high school, I worked on many domestic issues -- youth political awareness and local community service projects. After coming to Harvard, I have had my eyes opened to the big world beyond my community.
My idealism spread its scope to include the developing world.
What is your philosophy?
I owe it to my parents: If I have the knowledge and the physical ability to help someone in a lasting way, I should do it.
Design: Uday Kuckian
The Rediff Interviews


What do you think about the story?








Read what others have to say:





Number of User Comments: 7








Sub: keep an eye on some diseases

Hi, Iam very much impressed by your interview. I want to request you one thing,please concentrate on some dreadful diseases in india.last 3 yrs iam ...


Posted by Dr.Girivardhan









Sub: Hi

Hi, It was an excellent Interview,really it can change the life of everyone if they stick to their thinkings and it can do wonders


Posted by Subhashini









Sub: You go Girl!

You go Girl!


Posted by Deepu









Sub: Just small Opinion

Hai Swati, This is Appi Reddy, I read ur interview in Rediff web.I appreciate ur awareness and zeal. 2 Questions here , answer me plz. ...


Posted by Appi Reddy









Sub: Wonderful interview

My congrats to the interviewer, The questions are really good and inspiring . The questions touches evry realm and give a wonderful idea of the ...


Posted by vijay






Disclaimer