Home > News > First Look


Meet the new Mrs India-World

December 17, 2004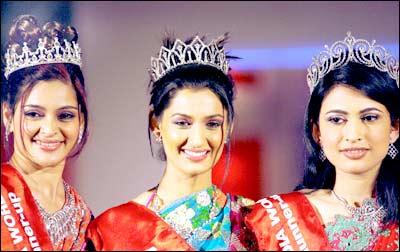 Mother of two Jeevikka Shah (centre) was on Thursday crowned Mrs India-World at a glittering function in Mumbai.
She is flanked by second runner-up Dr Sapna Sharma and first runner-up Arunima Dutta.
Married women from across the country took part in the pageant, which gives them the opportunity to compete in the Mrs World pageant.
This year, the Mrs World pageant will be held at Sahara Lake City, near Pune, in India from February 12-26, 2005.
Photograph: Sebastian D'Souza/AFP/Getty Images
Also See:
Slide Show: SOFT Divas Unveil New Trendz


What do you think about the story?








Read what others have to say:





Number of User Comments: 3








Sub: Go ahead and make yourself beautiful

I laud the idea of conscious effort for looking beautiful (beauty also includes personality & character in addition to bodily beauty). Married woman generally do ...


Posted by P.H. Thyagaraju









Sub: TRUE MISS / MRS INDIA !

Such contests provide no benefit to society.They are a waste of time and money.I advice the ladies who took part in such a contest that ...


Posted by deepak shukla









Sub: Vision of India

Indians have more time in spending on activities like these. If the same sponsers have given their valuable time and money to tackle poverty and ...


Posted by KS Srijit






Disclaimer