Home > News > First Look


MPs display their sportive side!

December 01, 2004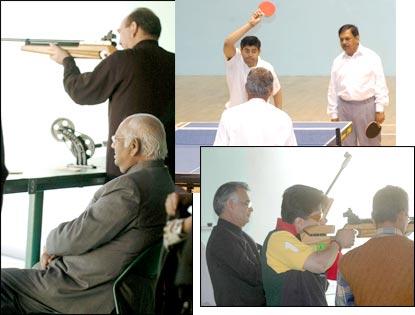 It was a battle among the members of Parliament. Only that the arena was not the political field, but the sports field.
The winter session of Parliament began on Wednesday, and it had to be ensured that the MPs were in the best of shapes.
So, Parliamentary Affairs Minister Ghulam Nabi Azad struck upon the idea of a sports tournament for them. The tournament was organised on Tuesday.
The MPs showcased their skills in various sports like badminton, table tennis and shooting, among others.
Finance Minister P Chidambaram showed that he is good at not only managing the economy, but also at table tennis. Azad, who is also the Urban development minister, participated in the shotgun event, while the Congress' Rahul Gandhi played a game of badminton with the Bharatiya Janata Party's Ananth Kumar. Most MPs took part in the shooting events.
Now that the 'warm-up' is over, the fitter MPs must be raring to rush to the Well of the House!
Clockwise from left
Azad takes aim as Lok Sabha Speaker Somnath Chaterjee looks on, at a shooting range in New Delhi: Photo: Prakash Singh/AFP/Getty Images
The Biju Janata Dal's Jay Panda in action against the Congress' Suresh Pachauri in a game of table tennis. Photo: Sondeep Shankar/ Saab Press
Home Minister Shivraj Patil loads his gun as young Congress MP Jyotiraditya Scindia takes a shot in the shooting range at the Sri Fort Sports Complex. Photo: Sondeep Shankar/ Saab Press



What do you think about the story?








Read what others have to say:





Number of User Comments: 1








Sub: spend more time with legistation

I wish MPs spend more time in Parliament and less time on Page 3 activities.


Posted by kalpit mankikar






Disclaimer