Home > News > Report

Antony, the good guy who finished last

George Iype in Kochi | August 30, 2004 18:33 IST
Last Updated: August 30, 2004 18:44 IST



In Kerala everyone loves A K Antony because he is simple, honest and straightforward.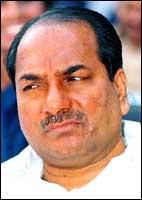 But most people heaved a sigh of relief on Sunday when he quit as chief minister after a tenure of three years and three months.
People like Antony, the human being, not Antony, the CM.
| | |
| --- | --- |
| | Also Read |
| | |
His simplicity has been so endearing all these years that he is one of Congress president Sonia Gandhi's trusted aides.

Antony first became CM on April 27, 1977. His second term was in 1995. On both the occasions he contested and won by-elections because he was not a member of the legislative assembly.

His third term began in May 2001, after he took the Congress-led United Democratic Front to a splendid victory.

He is perhaps the only CM never to visit a foreign country -- he has a self-imposed ban on his foreign travel.

Antony had also held the food and civil supplies portfolio for a short period during the regime of prime minister P V Narasimha Rao. Even then he steadfastly refused to go abroad.

"It was decades back that I visited Russia, Japan and Paris as a member of the All India Congress Committee. I have never felt the need to waste public money on foreign travels as chief minister," he said some months back.

But recently Antony decided to lift the ban.

He was all set to make his first trip to West Asia -- where the largest number Indians working are from Kerala -- in September. "I am getting hundreds of emails from Gulf Malayalees every week, suggesting that my visit to the region will help to attract more investment to the home state," he said.

Now that he has bowed out of office, that trip stands cancelled.

Antony's best qualities have led to his downfall.

His bitter rival in the state, K Karunakaran, made the most out of his humbleness. Ever since Antony became CM in 2001, Karunakaran and his son K Muralidharan have tried to pull him down many times.

Karunakaran opposed everything Antony did -- whether good or bad. For reasons no one could fathom, the veteran Congress leader even went to the extent of joining hands with the Leftists in assailing the government.

"There were many occasions when Antony could have simply asked the party high command to suspend Karunakaran and his followers from the party. But he never did that. In fact, it was Antony who bailed out Karunakaran from suspension on a number of occasions," said a close friend of Antony.

Antony always carried along Karunakaran and his supporters. That even led to Muralidharan's coronation as electricity minister six months back.

The end result: Leftists, influential church groups and Hindu protested against almost everything that the government did.

The massacre of eight Hindus in Marad last year, the government's education policies and the worsening infighting in the party all led to Antony's exit.

"I am the happiest person, and Antony's resignation has come a little bit late. It is going to do a world of good for both the party and the government," Karunakaran said.

Over the last three years, innumerable comedy shows on vernacular channels sprang up depicting Antony being crucified, like Jesus Christ.

All these shows caricatured Antony as a suffering CM.

Now that his 'suffering' is over, everyone wants to know what will be his role in the Congress.



More reports from Kerala



What do you think about the story?








Read what others have to say:





Number of User Comments: 21








Sub: Antony could have resigned early

I think his softspoken image made him to look like he is dumbstuck in all issues.Ministers are said to be strong, tough and highly corrupted.He ...


Posted by Dan









Sub: The fall of a borne hypocrite

For all the electronic media and the English media mr.A.K.Antony is a good and idealistic person, but behind his face mask there is shrewd manipulator. ...


Posted by shaji









Sub: Mr. A.K.Anthony - Mr. Clean

Mr. A.K.Anthony known as Mr. Clean, however resigned after sholdered the responsibility of the party's failure in Lok Sabha Election. He is the real leader. ...


Posted by Ramdas









Sub: Good Person

its good that Antony resigned, as it is a herculean task to do anything for the state with so much of opposition.He is too good ...


Posted by sharon









Sub: The good guy who finished last

It has been again proved that Good ,Honest people cannot survive in todays corrupted poltics..


Posted by Joseph






Disclaimer