Home > News > Message Board

August 25, 2004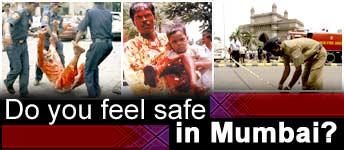 365 days later, only those affected directly by the twin explosions which shook Mumbai on August 25, 2003 remember it in detail. Apart from the victims and their loved ones, they perhaps include eyewitnesses lucky enough to have escaped, journalists, policemen, and the doctors and paramedics dealing with the dead and wounded.
For the rest of the city, life has moved on. References to the event are made in passing, if at all.
365 days later, the trial of the six accused who were arrested (six others are still at large) is yet to begin.
The police and security agencies have stepped up their vigil, and reports of 'terrorists' arrested and killed in encounters have become almost a routine affair.
365 days later, do you feel more secure? Speak Up


What do you think about the story?








Read what others have to say:





Number of User Comments: 63








Sub: Twin Blast

Though I am not safe I have no choice. I have to believe in God and set my foot out everyday. To believe in police ...


Posted by VISHWAS TIRODKAR









Sub: Safe??

Well if you talk about trains, i can surely say i am safe. But when it comes to security, its beefed up only during independence ...


Posted by Baliga Nikhil









Sub: Mumbai is the best place on this earth

My Mumbai......! I love this place. This is one of the best place on this earth. Best cosmopolitan city in the world, where securalism is ...


Posted by Bashir









Sub: Mumbai may not be safe but v dont feel unsafe

Its very devastating for the ppl who suffered but... in the place like mumbai u have to move ahead with all those painful patches and ...


Posted by Prashant









Sub: WHAT IS SAFE TODAY?

WHAT IS SAFE TODAY? I mean Mumbai is just one place. If you look around closely things are as bad. Mumbai is the prime target ...


Posted by VIVEK






Disclaimer