Home > News > Specials

The Rediff Special/Vijay Singh in Mumbai

August 25, 2004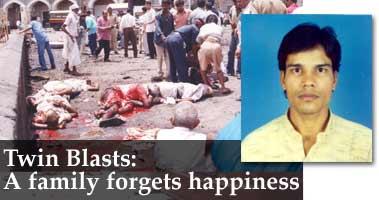 Safiq Ansari and Kamrunisa have not known happiness for close to a year now -- 360 days to be precise.
Just five days after the August 25, 2003 twin blasts at the Gateway of India and Zaveri Bazaar, the Mumbai Crime Branch picked up their son, Ashrat.
Mumbai Twin Blasts -- Complete Coverage
The police suspect he was involved in the December 6, 2002 Ghatkopar blast too. Fifty-two people died in the twin blasts, while two died in Ghatkopar.
The family has not yet recovered from the shock. Safiq is a broken man and Kamrunisa too does not keep well.
On Monday, when this correspondent visited the Ansaris at their Juhu Galli home in the northwestern suburb of Andheri, Safiq was standing outside his small house, staring blankly into the road ahead.
His son and Ashrat's younger brother, Anjum, said the old man keeps to himself these days. "My father appears healthy, but I know he is a broken man."
A mere mention of Ashrat sends Safiq and his wife into deep depression. "We have to be very careful. During the days when Dhananjoy Chatterjee [hanged to death on August 14 for a rape-murder] case was being featured on news channel, we did not switch our set on for days. We knew it would upset them."
Ashrat was picked up from outside his house on August 30. "They have not seen him after that. Can you imagine...a mother has not seen her son for a year?"
Life after Ashrat's arrest was tough for the family. There was nearly a complete social boycott. "People still are reluctant to deal with us," Anjum says.
Anjum, 39, is the oldest of four brothers. He and the youngest, Raqib, 26, have inherited their father's carpentry business. Farhad, 32, runs a cable network.
"Our work suffered immensely after Ashrat's arrest. Farhad's business was badly hit. Now things have gradually become normal, thanks to people who have known us for years," Anjum says.
The family does not visit Ashrat in jail, for they fear people will outcast them again. Only Anjum has seen Ashrat on a couple of occasions in the special court.
"Anyway, it's not easy to meet somebody in jail," says Anjum dismissively.
Ashrat's sisters -- Tabbassum, 35, and Nagma, 28 -- are unmarried. Anjum, however, says it's got nothing to do with Ashrat's arrest. "Late marriages are a norm in the part of eastern Uttar Pradesh we come from," he says.
Ashrat, a zari worker, was employed with a workshop in Surat before he returned to Mumbai after the Gujarat riots.
The police believe he returned an angry man and the twins blasts and Ghatkopar were his revenge for Gujarat.
Family and friends have denied this repeatedly.
Pictures of Ashrat participating in an Independence Day rally have appeared in newspapers. His friends in the zari workshop he was employed with in Mumbai have said he was there sitting with them till 1300 IST on August 25, 2003. The blasts took place at 1305 IST.
Anjum, in fact, has been associated with the right-wing Bharatiya Janata Party for many years. Though he is no longer an active member, he swears by the party's programmes.
"I don't think Narendra Modi was responsible for Gujarat riots in any way," he said.
The family has not celebrated any festival after Ashrat's arrest. The Ansaris seem to live in a vacuum for a year now and there seems no end to their ordeal.
The Rediff Specials


What do you think about the story?








Read what others have to say:





Number of User Comments: 20








Sub: A family forgets happiness

Who is to blame? you ? me ? or them? whom we vote to p-ower and hold in high esteem! The white tainted politician.the khakee ...


Posted by ali Shahanshah









Sub: Its natural!

Its natural how people may have sympathy with accused family when he is accused for grave crime.Wait and see what police is doing and what ...


Posted by asifawwal









Sub: And, why should we care?

This is an absurd article! It seems the author has enough time on his hands to waste it like this. What makes the author assume ...


Posted by Mahesh Vartak









Sub: Twin Blasts

So sad! The suspect's family has forgotten happiness since last one year. I request your reporter to also interview those who have lost their relatives ...


Posted by Vinay Soman









Sub: A family forgets happiness

Its sad to see the family in this state.Innocent people are caught and the culprits move around freely.atleast the social welfare Organisation and the general ...


Posted by Kaiser






Disclaimer