Home > News > Specials

The Rediff Special/M Chhaya in Kolkata

August 12, 2004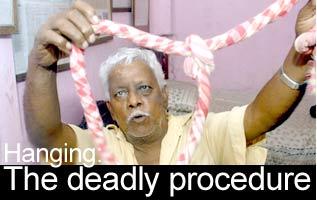 Hum to hukum ke ghulam hai, hume maaf kijiye ga;
Hindu bhai ko ram-ram Muslim bhai ko salaam,
Hum to hai hukum ke ghulam
Hangman Nata Mallick will mouth these lines before putting a black hood on the head of Dhananjoy Chatterjee.
"Next, I'll hold the iron lever and wait for the signal from the babus. When they give the signal, I'll pull the lever," said Mallick (84) speaking from his experience of hanging 24 convicts in over six decades.
His work actually begins once the date of the execution is announced. A copy of the court order pronouncing the death sentence is handed to the convict and his family. Simultaneously, the hangman is intimated. He is asked to inspect the gallows and prepare for the execution.
Mallick has visited the Alipore correctional home, where the hanging is to take place at 4.30am on Saturday.
He carried out trial hangings using sandbags. These involve testing the strength of the gallows from which the convict is to be hanged and checking the footboard.
He has waxed the noose made from special ropes, applied soap and ripe banana to make it slide smoothly on the convict's neck.
"My preparations are complete. I have checked the gallows, the lever, the rope and tied the noose," he said.
He will reach the venue the evening before the execution. After some last minute checks, he will be served dinner. "I will drink a little that night and lie down and wait," Mallick said.
He will get up around 2.30am and have some tea before beginning his work by first tying the rope from the gallows. He will be helped by his son and grandson.
| | |
| --- | --- |
| | Also Read |
| | |
Around that time, concerned officials will begin to gather in the premises. The jail superintendent, a local magistrate, senior police officials and a doctor have to be present when the hanging takes place. Eminent citizens can also be present.

Just before the appointed hour, the convict will be led to the gallows. He will be told of his crime and the punishment.

Then, Mallick will take over. "I'll tie his hands behind his back and also his legs together."

Then he will recite his little prayer to free himself from any sense of guilt before putting the hood on the convict's head.

Once the lever is pulled and the body kept hanging for some time, it will be brought down. The doctor will examine the body to confirm if the convict is dead.

The body will then be sent for autopsy. A surgeon will be present inside the jail to conduct the autopsy.

After the postmortem, the body will be handed over to the convict's family. If there are no claimants to the body, government officials will cremate it.

Photograph: Deshakalyan Chowdhury/AFP/Getty Images


The Rediff Specials




What do you think about the story?








Read what others have to say:





Number of User Comments: 80








Sub: Dhananjay hanging

I deplore the media making such an issue of this matter. It would appear that the media is giving undue importance & 'deifying' a convict. ...


Posted by C S Selod









Sub: Kalam rejects Dhanonjoy's plea

Hats off to the president for rejecting the mercy plea of Dhanonjoy Chatterjee.I wonder how much thought was applied to the procedure.In India the government ...


Posted by salil









Sub: Capital Punishment

Abolition of Capital Punishment is as fatal as the long procedure of legal process. All trial cases of murder or such henious crimes should be ...


Posted by h.m.gulgulia









Sub: This is a sick article.

I used to visit and like most of the news in rediff.com, but is this news? How sick can people get by describing how people ...


Posted by Soumyajit Sarkar









Sub: death sentance

This will save many female childs in future


Posted by Elangovan






Disclaimer