Home > News > Report

Heavy rain derails life in Mumbai

Vijay Singh in Mumbai | August 02, 2004 14:10 IST
Last Updated: August 02, 2004 18:10 IST



Heavy rain for the third consecutive day on Monday in Mumbai has disrupted life in the metropolis.

Both road and rail traffic has collapsed because of water-logging in low lying areas. There are traffic jams in both western and eastern suburbs.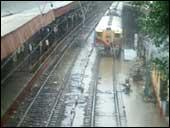 Suburban train services on the western line have come to a standstill due to water-logging at the Mumbai Central station, while trains on Central and Harbour lines are running behind schedule.

Western Railway Chief PRO Shailendra Kumar said: "We have stopped the trains on all four tracks for the time being."

People had a tough time reaching their offices in the morning. Several government and private offices reported low attendance.

All government offices have declared a half-day. The Brihanmumbai Municipal Corporation also has decided to let its employees go home after the lunch break.



More reports from Maharashtra
Read about: Telgi case | Mumbai blasts



What do you think about the story?








Read what others have to say:





Number of User Comments: 2








Sub: Calendar Kumar

Is it Calendar Kumar or Shailendar Kumar??? Please check out the mistake if any in the above article...


Posted by Yusuf









Sub: don't know.

when it dosen't rain then also life goes out of gear,when the rains come in excess then also it pulls life out of gear...i don't ...


Posted by mohit bhalla






Disclaimer