Home > News > Lakme India Fashion Week > Hot News

Sourav Ganguly's designer dreams

April 29, 2004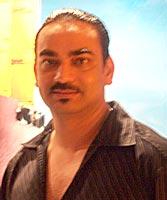 You could soon see a more stylish, more elegant Sourav Ganguly. Popular designer Wendell Rodricks being considered to spearhead a sartorial makeover of the Prince of Kolkata.
The Goa-based designer, whose 'Fashion Democracy' collection was shown on the ramp at the ongoing Lakme India Fashion Week in New Delhi today, said he has been approached by the management firm that handles Ganguly's marketing affairs.
"I have been approached by Percept DF Mark, which manages Ganguly's marketing," Rodricks told PTI.
He added that talks were still on and nothing had been finalised as yet. Meanwhile Rodricks, who is popular with the celebrities, said he is now looking to design clothes for a greater number of people; this was reflected in his show at the Fashion Week.
"I want to design for people of all ages and all sizes and I want to become more affordable," said the 44-year-old designer, whose show was unique in having not only professional models but also kids, housewives and the elderly walking down the ramp.
His latest collection starts at a very affordable price range of Rs 700.
ALSO SEE
Style for real people
Wendell Rodricks: 'Concentrate on style, not fashion'
Photograph: Jewella C Miranda
PTI