Home > News > Lakme India Fashion Week > Hot News

India Fashion Week set to sizzle

April 27, 2004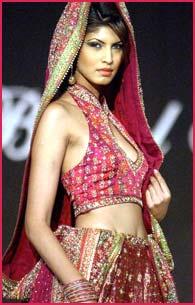 The Lakme India Fashion Week 2004, which begins in New Delhi on Tuesday, promises plenty of drama and surprises, with designers saying they have given a free hand to creativity.
Designer Ritu Kumar, whose clothes are known for their rich Indian motifs, said her collection for this week is "one of the more varied lines" that she has done.
"My work has always been based on some or the other aspect of India. But this time, my collection reflects the gypsies who are said to have migrated from India to southern Europe, influencing the culture of that area," Kumar said.
Experimenting with traditional chikankari, using it in Chinese motifs, is Vijay Arora. "I have used chikankari in a unique way. The Indian embroidery has been used to create typically Chinese forms," he said.
But refusing to divulge any more, he said, "Come for the show. There will be lots of surprises."
Designer Ranna Gill promises a pretty line with a heavy Moroccan influence. "The styles and colours will all remind you of Morocco. There are kaftan tops and kurtas in colours ranging from chocolate to turquoise, blue and gold," she said.
Photograph: Prakash Singh/AFP/Getty Images
PTI