Home > News > Lakme India Fashion Week > Hot News

Preview: Rajesh Pratap's dark side!

Priya Ganapati in New Delhi | April 27, 2004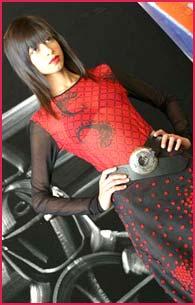 New Delhi designer (and the male version of the elusive Greta Garbo) Rajesh Pratap Singh's collection at LIFW 2004 goes thus: Giger goes to Varanasi to meet the cult of Shiva.
H R Giger is the Swiss surrealist artist, painter, sculptor, architect and designer.

Nets, brocade, artificial leather, silks, cashmere and wool have all contributed to the dark serious look in Rajesh's collection this time. He has also used special treatments and unusual combinations of fabrics like artificial leather with chiffon.

Keeping in mind that this is an Autumn-Winter collection, the use of colours is limited to dark browns, greys, blacks and blues.

His favourite colour white, of course, finds a place in the collection. One of the most unassuming designers in India, Rajesh retails his clothes under the label Pratap, at Mumbai's premier boutique, Ensemble, USA's prestigious Saks and Strada, Italy. He is known for his machine perfect engineering, his embellishments and the supreme wearability of his clothes.
If you haven't heard of him, you are not really to be blamed. The designer hates interviews and seldom appears in public.

In this picture, Sapna Kumar models a red and black dress from Rajesh's collection that will be shown at the Lakme India Fashion Week today at 6 pm.
Photo: Jewella C Miranda
Coordination: Imran Shaikh