Home > News > Lakme India Fashion Week > Hot News

Lakme India Fashion Week: a ready reckoner

Sita Menon | April 22, 2004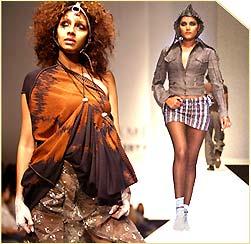 Why is there so much brouhaha about the LIFW? Anyways, what exactly is the LIFW?
Five years ago, India's fashion industry stalwarts woke up to the fact that our country needs a platform that blends creativity with business. The result was the Lakmé India Fashion Week -- also known as the LIFW -- instituted on the lines of the fashion weeks in New York, Paris and Milan. Today, it is seen as a celebration of fashion and an event where industry professionals have the opportunity to form trade partnerships within India and abroad.
Who's behind this?
The Fashion and Design Council of India. It is the apex body of the Indian fashion industry and is headed by Vinod Kaul.
When will it be held this year?
Between April 27 and May 3 in New Delhi. The venue alternates each year between Mumbai and Delhi.
Isn't that plumb in the middle of the general elections?
Yes. But it is rather unlikely you will see any political interpretations in the ensembles on display. Two years ago, Malini Ramini was nearly put behind bars when she wore the Indian Tricolour on her chest.
Haven't they moved it forward? Wasn't it held in July last year?
Yes, from July 17-July 24. But the dates were moved forward this year. LIFW now keeps pace with the international buying season. As a result, international buyers can now place their orders well in time to meet their requirements for the Fall / Winter season abroad.
Will international buyers be there?
Yes. Indian apparel houses like Raymonds, Ebony, Pyramid, Lifestyle, Shoppers' Stop, Ensemble, Origins and Madame Butterfly notwithstanding, names like Leclaireur, Maria Luisa, Zingara, Kikis London, Aesthetics, Pegasus Fashion Imports, Sanskrit, A J Collections and Purnima will represent the international market.
Hmm. So what exactly will happen at the LIFW?
It's not all glamour and gloss, though there will be plenty of that around. Fashion is serious business and the organisers will rope in international and Indian buyers to view the collections that will be on display during the week. Besides, there are trade seminars, workshops and media orientation programmes into the world of fashion.
Who will take part in LIFW 2004?
Fifty seven of India's best designers. As is the norm every year, there will be a few newcomers too. This time, there are seven. At least 30 models will take part, some of whom will be first-timers as well. Besides these, LIFW will involve various makeup artistes, skin experts, fashion choreographers and fashion institute students who volunteer at the seven-day-long event.
What about people like us?
The good news is there will be free makeup, haircare, skincare and footcare wokshops. Catch is, this is a by-invitation-only event. Which means that if you don't have a pass to attend, you don't get to avail of the goodies.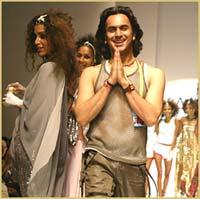 What's special at the LIFW this year?
Fruits are the latest inspiration for the designers at LIFW. The keywords are Pop, Burst and Crush, which will be interpreted by Anshu Arora Sen, Aki Narula and Anamika Khanna at the grand finale.
What are the trends likely to be seen?
Muted colours from Tarun Tahiliani.
Extra-long cigarette pants from Narendra Kumar Ahmed. They are called churi pants here, but are internationally known as skinny pants.
Sari skirts from Namrata Joshipura.
The metallic look by Malini Ramani.
Indian pleats on Western silhouettes by Rina Dhaka, who takes credit for introducing the lycra churidar. Dhaka, incidentally, will also unveil the show this year.
Also expect to see 'just kissing the knee' length cuts.
And the hot colours?
Beige, ivory and brown.
Will celebrities be there?
Of course! You can expect the Who's Who of Bollywood and the business world. From the Tatas, the Birlas, the Ambanis and the Goenkas to Bollywood stars like Kareena Kapoor and Anil Kapoor, they will all be there!
Who is the hot designer this year?
Ah. That's the question. Keep watching this space for more info. The designers are now assembling their designs and putting together their collections. As soon as we get a sniff, we'll let you know!
Photographs: Jewella C Miranda
Image: Lynette Menezes