Home > News > Message Board

April 21, 2004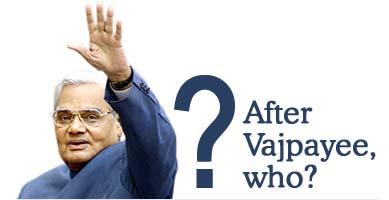 It is a strange statement to make at any time. And when it comes during electioneering, it gets imbued with significance. Prime Minister A B Vajpayee's revelation that the line of succession after him has already been decided by the Bharatiya Janata Party, coupled with another remark that he is tired of running a 22-party coalition and seeking a clear mandate for the National Democratic Alliance, is clear indication that the BJP has been wresting with the leadership issue.
Vajpayee, after all, was not always the BJP's mascot; that honour belonged to Deputy Prime Minister L K Advani who raised the party's parliamentary strength from a mere two in 1984. His approach, however, was not enough to give the BJP a simple majority or earn many friends, which is where Vajpayee's middle of the road approach worked.
And when Vajpayee, really the glue that holds the NDA together and the tallest among all current leaders, talks of a line of succession, naturally there is concern. While opinion polls suggest that the NDA may have peaked too early, no one believes the alliance won't form the next government or that Vajpayee will not be prime minister again.
But could there be a change midcourse? If so, who will it be? Deputy Prime Minister L K Advani who, despite his protestations, is perceived to be a hardliner? Or M M Joshi, who draws immense pleasure from roiling academics? Or, will it be someone younger?
Tell us who you think would be the right person to lead the country after Vajpayee, and why.  Speak Up!
Photograph: Raveendran/AFP/Getty Images


What do you think about the story?








Read what others have to say:





Number of User Comments: 253








Sub: Next prime minister

Arun Jaitley, Very polished,sauve and intelligent.Has the grasp of the complex issues facing india.We need a young man like him who has a young head ...


Posted by mkarai









Sub: after vajpayee

i am sure that after Vajpayee LAL KRISHNA ADVANI is the Prime Minister of india. he is the perfect person for the post of Prime ...


Posted by ingole atul bhimrao









Sub: Mr. L. K. Adavani Ji After Mr. A.B. Vajpayee Ji

I Think Mr.L. K. Advaani can lead india better than other leader. other leader in BJP that can be PM. 1. Sushma Swaraj 2. Arun ...


Posted by gopal_soni









Sub: Advaniji should suceed Vajpayeeji

Should be some outspoken, strong and honest character. It should be Advaniji.


Posted by Rajarshi









Sub: After Vajpayee Who

It is indeed common knowledge that if the BJP were to be at the helm of affairs, it is none other than Lal Krishna Advani ...


Posted by Chitranjan Sawant






Disclaimer