Home > News > Report

Orissa man delivers instant justice

Giridhar Gopal in Bhubaneswar | September 28, 2003 21:34 IST
Last Updated: September 30, 2003 16:05 IST



Every morning, all sorts of people head for the house of Harihar Sahu (66) at Laxmi Sagar on the outskirts of Bhubaneswar with their grievances. Sahu is not a judge but has been delivering justice for the past 11 years.

What brings them to Sahu is the assurance of swift justice. There is no need to hire lawyers either, according to Ratnakar Mohapatra, a nearby resident.

Bhubaneswar resident Dibakar Biswal says some people in his locality had a dispute over land with K C Patra, a builder. They approached Sahu with their grievances. "He summoned the builder and settled the matter within a week," Biswal told rediff.com.

Dhoi Sahu (60), a Bhubaneswar resident, and his three brothers fought over a plot of land for several years before they approached Sahu for help. The self-styled judge announced his verdict quoting ancient Hindu texts. It had a miracle effect." Now we are living happily," Dhoi said. Had we gone to court, we would have been financially ruined."

"When I started mediating in 1992, I dealt with a small number of cases. Now it has reached the hundreds," Sahu, who has resolved at least 2,000 disputes, told rediff.com.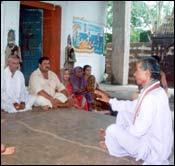 "We have given a name to the court - Jana Adalat (peoples' court). It was registered under the Society Registration Act in 1996 and has 25 members and counsels."
It functions like the official ones, including serving notice to parties. "I personally visit the homes of those who refuse to respond with the complaints," Sahu said. "We need to be polite because we are doing God's job. Therefore, I never feel bad visiting the accused."
"It is a matter of faith. We only take cases where the parties promise to abide by our verdict. The justice seekers include politicians, lawyers, bureaucrats and policemen."
People have come from Andhra Pradesh, Bihar and West Bengal with their grievances and returned with a smile. Sahu has been honoured by several organizations for his work.
Asked if it not a challenge to the existing judicial system, Sahu said, "If Mahatma Gandhi brought us freedom through non-violence, why can I not deliver justice this way?"
"He is reviving the ancient justice delivery system," a leading advocate said. "In ancient times, when there were no formal courts, a senior villager or citizen acted as the judge." He said the judiciary's burden would be reduced considerably if there were more people like Sahu.
"People spend money on lawyers and court fees and yet can't get justice after several years. That is why Sahu is a big hit," Sub-Inspector Sarbeswar Pradhan, Laxmi Sagar police station, said.
"But we have a lot of problems," Sahu said. "We need money to serve notices and maintain records. Each justice seeker pays Rs 20 to the peon who goes and serves his notice (to the respondent), but that is too small an amount," he said.
The local member of Parliament had sanctioned Rs 100,000 from his MP funds to support Sahu's court and even the state government had once granted him Rs 20,000.
Sahu does not take any remuneration for his work. His three sons and a daughter have asked him to retire but he wants to serve people till his last breath.
"He is satisfied and happy with his work. What else do we need?" his 50-year-old wife Baidehi said. "We all support and encourage him in this mission."
Photograph: Shivaji Moulik
More reports from Orissa
Read about:
Graham Staines Murder Case