Home > News > Report

Huge amount of explosives found in Mumbai

rediff.com Newsdesk | October 22, 2003 11:16 IST
Last Updated: October 22, 2003 23:48 IST



A huge quantity of explosives was found when police intercepted a tempo in Vasai, Mumbai on Tuesday night.

Four people were arrested in this regard and more arrests are likely, the police said.

The haul included 750 kilgrammes of ammonium nitrate and 700 detonators. The tempo, which was coming from Ahmadnagar, was intercepted at Chinchoti (Vasai)-Bhiwandi road near Mumbai.

The tempo, which had decoy onion bags to ward off the smell of ammonium nitrate, was carrying 15 bags of the deadly chemical, each weighing 50 kg. Several small plastic bags filled with detonators -- 700 in all -- were also found hidden in the bags.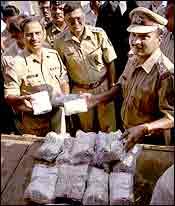 The police identified the arrested as Popat Dagdu Pandey, who had loaded the explosives in the tempo, Vishnu Gyandev, the driver and Bhausahed Govind Tambe, the cleaner. Based on their interrogation the police arrested Praveen Damji, owner of a godown in Vasai for whom the consignment was meant.

A special team has left for Ahmadnagar to probe the case further.  The police are searching for Vittal Sarde who sent the consignment.  

Superintendent of Police (rural) Ramrao Pawar said the seizure was made possible due to the specific intelligence information. "Yesterday we got exact information that explosives was going to pass through Chinchoti-Bhiwandi road by tempo no MH/12/RA/3465. We acted on that and arrested these people," he said.



More reports from Maharashtra
Read about: Telgi case | Mumbai blasts