The rains are over. And, according to the meteorological department's figures, it has been a good monsoon for the country.
But travel through parts of western Maharashtra and you will wonder if the region has had any rain at all this year.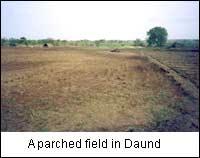 Unfortunately, your suspicion will be correct.
Daund, a subdistrict of Pune in western Maharashtra, is one such parched region.
There is no sign of water anywhere.
This is the heartland of sugarcane country, but you will be lucky if you see any standing crop. Mostly you will just come across fallow fields. In most places farmers did not even plant any crops this year. And hardly any of those that were planted survived.
On the roadside, there is just one topic of discussion -- the drought in western Maharashtra. Water has become a luxury.
On the outskirts of Daund, Yakhab, son-in-law of Madhukar Thakur, is busy cleaning and deepening his 20 foot well, a source of water that has served his family well for about six decades. Now, it's gone dry. "We are cleaning and digging the well deeper to get some water for cultivation," Yakhab said.
The family, which owns six acres of land, is spending about Rs 20,000 on its well, in the hope that if they get enough water to cultivate their land, they will be able to recover the investment in a year's time.
Yakhab could have got the money from the government as a loan, but completing the documentation and cutting through the red tape itself would have taken a year, so the family decided to risk spending its own money.
Vitthal Manglu Pawar, a former sarpanch [headman] of Bekhadi village, said, "We have no water for cultivation. This year it hasn't rained for even one hour continuously around here. We are not even able to slake our thirst."
Pawar owns five acres of land and so far it has given him a good income.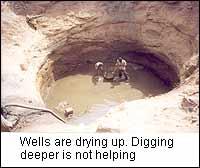 Not this year, however. "When there is no rain, our condition is the worst," he said. "I have three wells, but there is no water in any. The water levels are so low as to be useless."
Pawar pointed out that he is not the only one suffering. "This problem is common in our area," he said.
As it is the farmers have been grappling for some years now with the falling price of their produce. "We expect to generate good money by selling sugarcane," Pawar said, "but the sugar factories are reducing prices continuously saying sugar is coming from other parts at a lower price."
Now, this year the farmers don't even have a crop to speak of, thanks to the drought.
The state government, recognising the farmers' distress, is planning to exempt them from paying interest this year on loans, but the farmers are not happy and are looking for a complete loan waiver. "When we are incapable of paying the small interest amount, how can we repay the larger principal?" Pawar argued.
Water scarcity isn't the only problem. There's not enough power either. "We have an average eight hours of electricity every day," Pawar continued. "During that period, we need to use our 3hp motors to bring water from the canal or the wells to the fields. For that also we have to pay Rs 15,000 in three months, whether you use the motor or not." [If a farmer owns a 3hp motor for irrigation, the government-owned power utility charges him a flat rate of Rs 15,000 every quarter for electricity, as there are no meters.]
Jowar, bajra, groundnuts, pulses and sugarcane are the common crops in this region. But not this year. Some farmers did plant their fields using well water in the hope that the monsoon would be delayed, not denied. But that proved to be a vain hope, and most of those crops died.
"It's like mother's milk," said Pawar. "Without it a child cannot grow in a proper manner. If there are good rains, we do good farming and generate good money for ourselves."
Datta Pawar, another farmer who owns six acres of land, has no less than eight wells on that land, but not one has any water. Even the farm animals are suffering because of the drought and the resultant scarcity of feed.
Keru Nana Kale said he has eight acres of land, but just one well. And, of course, that too has run dry. Kale complains that while the region is part of the VIP Lok Sabha constituency of Baramati, represented by Nationalist Congress Party president and former chief minister Sharad Pawar, it has brought them no benefit in the current drought. "Our condition is terrible, but no one cares for us," he said.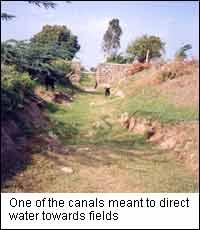 Suresh Jadhav of Naveengaar Gaon, who owns five acres of land and three dry wells, said matters are getting worse every year. "I had bought a tractor on loan a few years ago," Jadhav said. "and repaid the loan quickly from my farming income. Those were good days. But today our condition is bad and we are not able to grow food for ourselves, forget selling in the market."
The state government's attempts at seeding the clouds and generating artificial rain have not impressed the villagers much. "It will not benefit this current crop," Jadhav said. "This crop is totally gone."
Dattatray Gawde had taken a loan of Rs 25,000 from a co-operative bank to sink a well on his land one year ago. The government had also given him Rs 45,000 as loan under the Jawahar Rozgar Yojana. He still has to repay Rs 35,000, but the well has already run dry and he has got no income this year. Also, if the well is to be of any use, he will have to dig deeper, but that too requires money.
"I have two acres," Gawde said, "and my wife and three children depend entirely on that. But the lack of water this year and lack of funds to dig deeper have forced me to work as a labourer on daily wages. I earn Rs 75 a day, but even that work is not certain."
The Pune irrigation department's report gives a clear idea of conditions in the district. [The chart shows rainfall received in Pune district from the beginning of June to September 26.]
Taluka
Actual rainfall
(in millimetres)
Expected
(in mm)
Baramati
104.0
386.8
Indapur
143.6
421.4
Daund
98.0
383.9
Bhor
644.0
872.3
Velha
1394.0
2645.0
Purandar
147.0
457.9
Maval
962.0
1058.7
Mulshi
1175.4
1451.4
Shirur
212.0
437.6
Junnar
583.0
663.1
Khed
364.9
594.5
Ambegaon
596.5
682.5
Haveli
361.5
579.1
Every single block in the district has received less rainfall than expected this year. Even those parts that have achieved 80-90 per cent rainfall only made up the figures towards the end of the monsoon, by when it was too late to save the crops.
This isn't a problem of Pune district alone. Several other districts in western Maharashtra have received less than normal rainfall. But on a statistical average the meteorological department says rainfall in most parts of the state, and indeed the country, is normal. (What is a normal monsoon? Click here for a primer.)
The state government has now ordered a survey of the regions that have received less rainfall. Based on this report, it will exempt farmers from paying electricity bills for a year. But for a community that has seen its livelihood wither over the last four months, that sounds like too little, too late.
Photographs by Vijay Singh