Home > News > PTI

Patni remanded to police custody till Oct 17

October 03, 2003 16:40 IST
Last Updated: October 03, 2003 17:05 IST



A special Mumbai court on Friday remanded Ghatkopar blast accused Zaheed Yusuf Patni to police custody till October 17, 2003.

Complete coverage of the Mumbai blasts

The prosecution had asked for a 14-day remand for Patni, which was granted by the court.

Patni was arrested and booked under the Prevention of Terrorism Act on Thursday. He is also an accused in the August 25 blasts in Mumbai.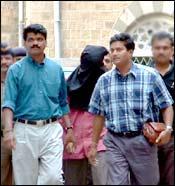 According to the police Patni had been working in Dubai since 1999. It was there that he came in contact with other twin blasts accused Nasir and Mohammed Hanif. Police suspect Patni had developed links with agents of Pakistan's Inter Services Intelligence and members of Pakistan-based militant outfit Lashkar-e-Tayiba.

They claim that Patni recruited Hanif for carrying out subversive activities and introduced him to Asrat. Hanif and Asrat are accused of carrying out the blasts at the Gateway of India and Zaveri Bazar on August 25.

The police claim Nasir, who was recently shot dead in an encounter, hatched the conspiracy to set off blasts in Mumbai.
Police wanted to question Patni about the activities of anti-India outfits in the Gulf. Since official channels would have involved time consuming procedures, they persuaded his family to summon him to Mumbai and cooperate in the investigation.

Patni returned to Mumbai on the night of September 30 at the behest of his family, which is based in Mira Road, a suburb of Mumbai.

After questioning Patni at his relative's place on Wednesday, police decided to book him under POTA.

Patni last visited India in May 2003 to attend his brother's wedding. He had stayed for one month. He had invited Hanif and Asrat to the wedding. Thereafter, Patni had also visited Hanif's house in Chimanpada, Andheri.


More reports from Maharashtra
Read about: Telgi case | Mumbai blasts


© Copyright 2005 PTI. All rights reserved. Republication or redistribution of PTI content, including by framing or similar means, is expressly prohibited without the prior written consent.