Home > News > Report

Jet airways plane goes off runway in Mumbai

Syed Firdaus Ashraf in Mumbai | November 25, 2003 11:26 IST
Last Updated: November 25, 2003 19:06 IST



A Jet Airways aircraft went off the runway shortly after landing at the Chhatrapati Shivaji International airport in Mumbai on Tuesday.

All the 52 passengers, however, in the plane are safe and there was no damage to the aircraft, airport officials said.

The ATR aircraft was coming to Mumbai from Bhavnagar.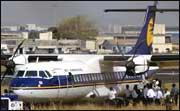 "There was a technical snag and therefore the plane got off the main runway. We have shut down the main runway now and operating the second runway for the other flights," Airport Director Sudhir Kumar said. The main runway was opened after four hours.

"It is a matter of investigation and I won't be able to tell you right now the cause of the incident," he said when asked about the reason for the technical snag.

The aircraft has been towed to the terminal building and subjected to necessary checks.

The flight was under the command of Captain Zaki, an instructor on ATR 72 aircraft, airport officials said adding he has been taken off flying duties pending an inquiry by the Directorate General of Civil Aviation.



More reports from Maharashtra
Read about: Telgi case | Mumbai blasts