Home > News > PTI

Communal violence in Ahmedabad; 4 hurt

November 07, 2003 14:41 IST
Last Updated: November 07, 2003 14:44 IST



Four people, including a police inspector, were injured on Friday in a communal clash in Ahmedabad.

A scooter was also torched when members of two communities clashed in the Shah Alam area of the city. The police said sharp-edged weapons were used.

Preliminary reports indicated the violence in communally sensitive area was sparked by an altercation between members of the two communities in the wee hours

Two persons were injured when they were attacked with sharp-edged weapons, the police said. The remaining two, including the inspector, were wounded in heavy stone throwing by members of the two communities, they added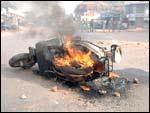 The inspector was discharged after first aid, while the rest were admitted to different hospitals.

The situation was totally under control and vehicles were plying as usual in the area, the police said.

They said the exact cause of violence would be known only after recording statements of the injured.

On November 2, three people were killed and 40 injured in communal clashes in Virangam town, some 70 kms from here, prompting imposition of curfew on the city.


More reports from Gujarat
Read about: Gujarat Riots | Earthquake hits India


© Copyright 2006 PTI. All rights reserved. Republication or redistribution of PTI content, including by framing or similar means, is expressly prohibited without the prior written consent.






What do you think about the story?








Read what others have to say:





Number of User Comments: 2








Sub: communal clash in ahmedabad

PLEEEEASe Stop now. Enough is Enough. This is for both communities.


Posted by Shobhan









Sub: communal voilence in ahmedabad

why does this happens every time in gujrat?? after that train accident. after that incidence many inncent people are killed but the government is silent ...


Posted by farid






Disclaimer