Home > News > Report

Council election could expose rift in Mumbai Congress

Vijay Singh in Mumbai | November 04, 2003 23:53 IST
Last Updated: November 05, 2003 22:11 IST



So far, the ruling Democratic Front in Maharashtra had to worry only about the rift between its major partners – Congress and the Nationalist Congress Party.

However, the forthcoming elections to the legislative council are all set to expose divisions within the Congress.

The problem is in the high profile Mumbai unit of the party, headed by Gurudas Kamat, who was appointed in March 2003 overlooking the claims of another aspirant, Minister of State for Home Kripashankar Singh.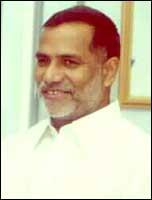 Kamat appointed a new executive committee, which comprised six members from the Northwest Mumbai parliamentary constituency alone. All are known to be working against Singh, who was elected from the Santacruz assembly segment in the constituency. Kamat also sidelined party workers considered close to Singh.

Hence, both will use the elections to the Upper House in December and the appointments to the posts of Youth Congress and NSUI presidents to establish their turf.

The immediate issue of contention is the continuance of party corporator Gunvant Seth in the post of opposition leader in the Brihanmumbai Mahanagar Corporation. Singh claims Congress corporators want him replaced.

Of the eight MLCs who will retire this year, two are those elected by the BMC. Hence, the leader of the party in the civic body has a major role to play in the selection of the candidates. "Our high command will decide the party candidates for the MLC election," Singh says.

Though Kamat's predecessor Murli Deora refuses to comment on this matter, he is believed to be backing Singh in a bid to pave the path for his son's entry into politics. Congress sources said Deora has his eyes on the post of Mumbai's Youth Congress president or a ticket for next year's assembly election for his son.

Deora headed the Mumbai unit for over two decades and is known to wield considerable influence in the party.

Singh enjoys the support of another party heavyweight. Member of Parliament from Northwest Mumbai Sunil Dutt also wants one of his candidates to be elected an MLC.

The Kamat faction is not keeping quiet either and is doing everything it can to cut Singh to size. It is harping that Kamat has been a more active president then his predecessor, who purportedly never descended to work at the grassroots level and was considered incapable of taking on the Shiv Sena.

Representatives of both groups are making constant trips to Delhi to apprise central leaders of the goings-on in the metropolis. Besides swearing their allegiance to the high command, they are also trying to garner support for their respective candidates.



More reports from Maharashtra
Read about: Telgi case | Mumbai blasts