Home > News > Report

Prince charming leaves Charles behind

R Swaminathan in Mumbai | November 05, 2003 20:23 IST
Last Updated: November 05, 2003 21:26 IST



The British are generally punctual. And Prince Charles did not disappoint the motley crew of journalists, policemen and slum dwellers gathered in Dharavi on Wednesday afternoon. He arrived on dot at 12:45 pm.

The Prince of Wales was in Asia's biggest slum cluster to inaugurate the Suryodaya Cooperative Housing Society building -- an example of how community participation can change the face of slums.

Also See: 'Suddenly Prince Charles dragged me in'

Just a couple of years back unruly hutments of all shapes and sizes jostled with each other in the area where the multi-storey Suryodaya building stands today.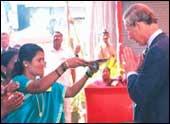 An aarti and a huge south Indian mallai (garland), which would have made Tamil Nadu politicians think twice, greeted the Prince of Wales. Despite a noticeable stoop, he did manage to keep it on for some time with a smile to boot.

The prince was then taken on a guided tour that was supposed to conclude with a visit to the Rajiv-Indira Cooperative Society building. But as Magsaysay award winner Arputham Jockin shared with rediff.com later, the prince broke protocol and visited other houses, and even a tannery, in Dharavi.
The slum rehabilitation project, of which Suryodaya Cooperative Housing Society is just a small part, is supported by the Department for International Development in partnership with the Society for the Promotion of Area Resource Centres and UK-based Homeless International.
Together, they have a programme called Community-led Infrastructure Finance Facility. Chief Executive of Homeless International Ruth McLeod told rediff.com, "CLIFF is a micro-credit initiative. Like banks, people can open accounts in this instance with SPARC and deposit their money. The money is managed by the community and is used by it for development projects."
SPARC director Sheela Patel explained the slum rehabilitation project thus: "We first convince people to move out of their hutments. They are then moved into a transit camp and only then are the slums demolished. And on that land we build a house for them."

SPARC coordinator M G Shekhar says, "When SPARC was started in 1984, one of the initiatives was to encourage people to save. I was and am still living in Dharavi. I saw how people had no clue what savings could do. So we started a savings scheme. But unlike banks we allowed people to even deposit 50 paisa."

While savings scheme led to generation of funds enough to build individual houses, it was still not enough to construct a building housing several flats.
Asked how SPARC achieved it, Suryodaya project manager Gnanamurthy says, "We took a loan of Rs 10 crore from Citibank. Since the hutments occupy a lot of space and a building less space, any demolition gives us enough space to construct two buildings.

"In the extra land another building will be constructed whose flats will be sold at the market rates. The money thus made will be used to repay the loan and create a bank account that will cater to recurring charges like maintenance, electricity etc," he explains.
Waseem Bhati, whose company Sarwar Construction Private Limited has been constructing buildings and houses for SPARC, says profit margin is not his aim here.
"I make more than enough in my other projects. This is an activity, which gives me an opportunity to help other people and at the same time help my company acquire engineering skills. For instance, once we had to construct toilets on land that was swampy. But we were still able to build septic tanks and dispose off waste safely," he says.
"I am a builder and I know how to cut corners. But I don't do it. These projects give me great satisfaction," he adds.

The non governmental organisation is also involved in several other projects in Mumbai and other parts of the country.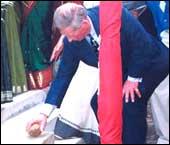 Jockin, who is the is head of the National Slum Dwellers Federation and the Slum Development International, told rediff.com, "We are also involved in rehabilitating the people who live along the railway lines. Unlike Suryodaya, this project involves the government too. So the Brihanmumbai Municipal Corporation is giving us the money to rehabilitate the slum dwellers."

As Prince Charles broke a coconut, Jockin had a quiet smile of satisfaction on his face. Later, he pointed out to the foundation stone, which was right above the place where Charles had broken the coconut, saying, "You know all the British officials wanted it removed. But I put my foot down. After all, it was made by the people of this place."

On it was written, 'Ospicious Occassion'.



More reports from Maharashtra
Read about: Telgi case | Mumbai blasts



What do you think about the story?








Read what others have to say:





Number of User Comments: 1








Sub: Dharavi slums -reg

Really wonderful. Still Britishers help to Indian slums and poverty. They should also support us in resolving the Kashmir issue created by them and threats ...


Posted by J.RAMA KRISHNA






Disclaimer