Home > News > Interview

The Rediff Interview/Girish Chandra Saxena

June 24, 2003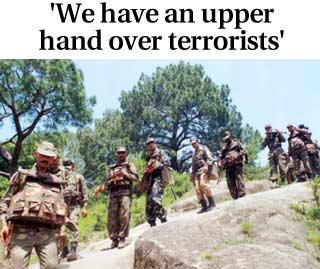 Having served as governor of Jammu and Kashmir for two terms, Girish Chandra Saxena completed his tenure on June 4 and made way for retired Lieutenant General S K Sinha as the new occupant of Raj Bhavan in Srinagar.
As he welcomed the long awaited opportunity of finally having the time to catch up with his reading, Saxena said the security forces and the government had a tight grip over terrorism in J&K.
In an exclusive interview with Chief Correspondent Onkar Singh at his Delhi home, Saxena, former head of the Research and Analysis Wing, said President A P J Abdul Kalam's visit to J&K this week had tremendous significance in the changed environment.
What significance do you see in President Kalam's visit to Jammu and Kashmir on June 25 and 26?

The very fact that the President of India is visiting Jammu and Kashmir gives its own message. Particularly, when we know that a Presidential visit to this part of India is very rare and normally comes once in five or ten years.
The way his programme has been structured would provide him with many opportunities to interact with various sections of the people, particularly youth and children. They would all benefit by his views and advice as has been the case in many other states that the President has visited.
There would be a great interest in seeing him and hearing him at various functions and meetings. I am confident the media will cover the event extensively.

Is it true you had started making preparations for a possible Presidential visit in March?
Of course, that is true. We had begun making preparations in March because it was expected that his visit would materialise in the near future. Only preparatory work had been done but the final dates had not been fixed by then. I met the President, both during the governor's conference in New Delhi and even earlier regarding the visit.
In my capacity as chancellor of Jammu University, I had written a letter to Dr Kalam inviting him to address a special convocation at the university. I had held discussions with Chief Minister Mufti Mohammad Sayeed and other senior functionaries including the director general of police and reviewed all arrangements for the visit.
It so happens that the visit is taking place after I have laid down office as governor of Jammu and Kashmir.
How do you assess Operation Sarp Vinash launched by the Indian Army in the Poonch, Rajouri and Surankote sectors?
From all accounts that I have got I would say that Operation Sarp Vinash has been very successful. The Indian Army needs to be complimented for the good work they have done, not only in this operation but in many other operations before. Keeping in mind the terrain that has many high peaks and dense forests and the fact that this is a sparsely populated area, particularly the Surankote area, the operation has achieved very laudable results.
It is not the first time that an operation of this nature has taken place, maybe not on this scale. Earlier also, the army had conducted operations in this area and smashed the hideouts of the terrorists.

Is it true the army found sophisticated bunkers at the height of 12,000 feet and above?
When terrorists create hideouts in the upper reaches of the mountains and forests they make them liveable. The easiest way they can do it is to give it the form of an underground bunker. The army has smashed such bunkers during Operation Sarp Vinash. Large amounts of provisions and ammunition were also found in these bunkers.
How do you look back at the situation in Jammu and Kashmir?
When I took over as governor in May 1998 there was a popular government in the state. Things were looking up and the people were relaxed. Then we had a sudden spurt of terrorism. In 2000, we had an attack on the pilgrims in Pahalgam.
2001 was a difficult year because there were a number of fidayeen (suicide) attacks. The attack on the state assembly building on October 1 was really bad. But since 2002 things began to look up once more after the Indian Army was moved to the border following the terrorist attack on the Indian Parliament on December 13, 2001.
We had a number of successful operations against terrorist groups. Every fourth infiltrator was gunned down. This discouraged infiltration because those who were crossing the border realised that they could be the ones who could face the bullet.
After Operation Sarp Vinash, we have a tight grip over terrorism in the state. We always had an upper hand and now things are very much under control.
How many terrorists are still operating in the valley and other places?
Their number has been put around 3,500 spread over Poonch, Rajouri, Doda and other parts of the valley.
In a television interview with NDTV, General Pervez Musharraf dismissed the state assembly election as a sham.
These were the most peaceful elections that have been conducted in the valley. Hundreds of foreign and Indian journalists have covered the event. Not one of them complained that the Indian Army was forcing people to vote. On the contrary, the Indian Army was unwilling to be seen anywhere near the polling booths. They did not want to come even when required.
Maybe he [Musharraf] is speaking about his own experience of the Pakistan army and the manner he has been using it for his own ends.
He also claims that more then 70,000 people have been killed in Kashmir.
I do not know who gave him those figures. According to statistics that were made available to me, 13,600 people lost their lives in the last 14 years. Of these 10,000 were killed/massacred by terrorists in various incidents of violence. Rest 3,600 lost their lives in crossfire between the security forces and the terrorists. I am telling you these figures because each body was identified.
I must tell you that the security forces lost 3,600 personnel and killed over 16,700 terrorists since 1989. Seventy per cent of these were foreigners.
What kinds of arms and ammunition have been seized during the operations?
The Indian Army and paramilitary forces have seized over 25,000 Kalashnikovs, 325 sniper rifles, 1,000 machines guns, 1,800 rocket propelled grenade launchers, 4,000 rocket launchers, 10,000 land mines, 50,000 hand grenades, 30 tonnes of explosives, 7.5 tonnes of RDX, 10,000 revolver pistols and 4,000 wireless sets.
This speaks about the kind of assistance terrorists groups have been getting from Inter Services Intelligence.

Is it true that some local youth gave up their jobs in Saudi Arabia to fight terrorists along with the Indian Army during Operation Sarp Vinash?
Yes, about 50 of them gave up their jobs in Saudi Arabia to come and fight along with the Indian Army in this particular operation. In the last 14 years, over 3,400 militants have surrendered to the Indian Army, and they have been fighting terrorists along with the security forces since then.
But this is a first incident of its kind where such a large number of local youth have given up their jobs elsewhere to fight for the security of their state, land and home. Some of those who surrendered arms were also enrolled in the paramilitary forces. The idea was to keep some kind of regulation on them because if they had been left on their own they would have become vigilante groups.
How do you access the Mufti Mohammad Sayeed government whose main plank has been to provide a healing touch to the people of the state?
The phrase healing touch or the concept what it implies is very appealing and there can be no argument with it. The whole merit or fallout of this policy will depend upon how it is implemented.
A good beginning in that direction has been made. People generally feel the government is good and its leaders are responsive and accessible. There is an effort to look into their problems and provide solutions to them.
It is a challenge to sustain this effort and to deliver more and more. It should be seen it is not misunderstood and it does not interfere with the anti-terrorist operations that are being carried out by the security forces on other fronts.

Some experts believe the Indian Army should have a firm grip over the terrorists before the prime minister goes in for talks with Pakistan so that we can talk from a position of strength.
It is a question of degree. We have an upper hand over terrorists. We have always been in control. Despite all the efforts from the other side (Pakistan), we have been able to keep things under a tight grip.
The question is how much of an upper hand should we have? Right now we have good control over the situation. The security and economic situation has improved considerably. The environment is more relaxed. There is a growing sense of security. On that account we should have no reason to worry about. What we are waiting for is a more meaningful and constructive response from the other side.

What about the Kashmiri Pandits? Will they ever return to their homeland?

As confidence grows and as the security environment improves they should be able to return to their homeland. They want to go back to Kashmir barring those who have managed to find roots outside Kashmir. The Kashmiri Pandits want the administration to support the political will to send them home.

The Rediff Interviews


What do you think about the story?








Read what others have to say:





Number of User Comments: 3








Sub: Totally False

Claim made by Mr.Saxena is totally false with respect to ground reality.Ground reality has been proving that we are loosing in J& K.Saxena tries to ...


Posted by Sunilkulkarni









Sub: Really ?

It is more advisable for an out-going Governor to remain silent on such a delicate issue. Why cant we eradicate them totally and silently ?? ...


Posted by chanakya









Sub: terrorism under control in J&K

The attack in the heart of Jammu has said all about the tall claims of controlling terrorism in the Valley or rightly said in the ...


Posted by nancy






Disclaimer