Home > News > Interview

The Rediff Interview/Fali Nariman

July 25, 2003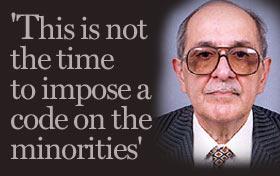 Fali Nariman is at his best when he is dealing with a constitutional matter before the Supreme Court. When Chief Correspondent Onkar Singh approached the distinguished lawyer at his home for an exclusive interview on the Supreme Court's advice to the Union government to enact a Uniform Civil Code, Nariman was aggressive. "This is not the time to impose a code of laws on the major minority community. It is no business of the Court to advise the government or Parliament with regard to passing a law," he said.

How would you describe the Supreme Court's view on the Uniform Civil Code? Is it a directive or friendly advice to the Government of India?
The Supreme Court -- and that too the Chief Justice's court -- did say it was time we have a common civil code. There are two answers to this.
First, this is not the time to impose a code of laws on the major minority community, particularly the Muslims. Second, it is no business of the court to advise the government or Parliament with regard to passing a law. Because the Constitution is very clear -- it says the State, which means the government, shall endeavour to have a common civil code or Uniform Civil Code for the territory of India. It does not say endeavour by legislation as Article immediately before it and succeeding it.

This word 'endeavour' is to be found in the Constitutional documents whenever a consensus is intended.
Are you suggesting that the Supreme Court has overstepped its jurisdiction?
Yes, I would say so for this reason when the same thing was said four years ago by a Bench of two judges -- when Justice Kuldip Singh was presiding -- a direction was given to the government to inform the court when such legislation would be brought, it was pointed out politely to the court that it was none of its business to tell either the government or Parliament as to what laws to pass. And upon that the same Bench very wisely and very correctly clarified its order and said it was mere obitor, a mere expression of opinion that the government was not bound to follow.

According to you we should let the people adopt a Uniform Civil Code on their own. Is that your argument?
Yes. I am convinced this would come with time. I have no doubt that a Uniform Civil Code would come with time. Please do remember that a uniform code has not prevented the attitudes of male Indians -- whether Hindu, Muslim or any other communities -- towards the women folk. Women will remain, especially in rural areas, backward because of the domination of men. A civil code would not cure this menace. I personally believe this is not the time to enforce a civil code, particularly at a time when we have not put Ayodhya behind us. This is very important.

Why do you say so?
Because the feelings that would give rise to amongst the minority community after this pronouncement would be: 'Oh even the Court now is against us.' They would say the Court was always for the minorities and what has happened to the Court. It is wrong to say so. I am making this very clear. But this would be the feeling and we should not give rise to such feeling. If the Court had struck down a particular section of the Succession Act, fair enough. It could have done so without making such observations. I wish it had done so because it is none of the Court's business to ask whether there should be a Uniform Civil Code or not. If a Uniform Civil Code has to come into operation then it must come through consensus.

Do you mean the Court's verdict has sent wrong signals to the minority communities?
Yes, it is definitely sending wrong signals.

How does one solve the Ayodhya issue which has been pending for decades now?
That is because both parties (the Hindus and Muslims) have taken a very high position from which they do not wish to come down. That is why the whole problem has arisen. My own view is that to destroy any structure -- whether religion is being practiced in it or not -- is against the law and should never have been tolerated. Unfortunately at that time, all that the Supreme Court did was to send the UP chief minister to jail for one day. To my mind that was a bad start which gave a bad impression.
Today I find there is a lack of leadership amongst the Muslim community who do not have the graciousness to understand that people genuinely believe that Lord Rama was born in a particular place in Ayodhya. And if no Muslim leader or saint was born at that spot, which is not their claim at all, then they should say please take this but please ensure that you respect the Worship Act passed in 1991 under which no site could be desecrated or changed at all to another religious site.

Are you suggesting that the Muslims should show magnanimity?
I would not say magnanimity. I would call it rationality. Because each side has taken a very high position which is unfortunate without realising the consequences of their action. There is no progress in this country and we have to put Ayodhya behind us.

How to do it, I think is going to be left to the Court. If it could be done through compromise or negotiations the better it would be.

Do you feel the Court verdict on a common civil code will have an impact on the Ayodhya issue? Is that your argument?
I am afraid it might. The backlash would be there -- and the backlash would be only this, despite the Constitution saying that in good time a common civil code has to come. I wish the Court had seen the arguments of the Constituent Assembly on this. When amendments were suggested to the draft Article by saying it would be done with the consent of the community Dr Bhim Rao Ambedkar said he did not want any amendment because it is now the law and it was not binding. He said don't think a common civil code would be introduced would be enforced on every citizen. This is what Ambedkar said.

Do you think this has come as a shot in the arm for the Bharatiya Janata Party?
I do not think the Court had intended that. This was not intended at all. Unfortunately, the political party in power has welcomed the judgment. That itself sends wrong signals all over the country. People would say 'Oh my god what is happening to minorities in the country.' Nothing is happening to the minority communities. And the Court must not send out such signals. I resent it and oppose the manner in which the Court has pronounced the verdict.

Would you say we need a Uniform Civil Code to improve the state of India's women?
That would be more important because the quality of life of women needs a major improvement.

The Uniform Civil Code Debate
The Rediff Interviews


What do you think about the story?








Read what others have to say:





Number of User Comments: 54








Sub: No time to impose civil code

There is no question of imposing civil code. The old game has begain. As the suggestion has came from Supreme Court, the person like Fali ...


Posted by laxmikantshukla









Sub: Who is fanning??

>>> Because the feelings that would give rise to amongst the minority community after this pronouncement would be: 'Oh even the Court now is against ...


Posted by Shriram Natarajan









Sub: Np time to impose civil code''

respected Mr Nariman . Are U representing on view of Indian govt, seems not of the countires taste, which can be avoided if youa are ...


Posted by gdgupta









Sub: unbelievable!

Thanks rediff for bringing out the real face of India's so called eminent constitutional expert. I was shocked to read his arguments. Courts advise can ...


Posted by Vinay Gupta









Sub: Why UCC?

I wonder why Indian government/court is bent upon imposing codes on minorities when they think its against them. If they want to treat their women ...


Posted by Manu






Disclaimer