Home > News > Message Board

July 24, 2003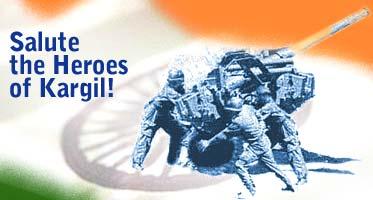 Four years ago, over 450 Indian soldiers died fighting Pakistani soldiers on the icy peaks of Kargil in Jammu and Kashmir. The battle was called Operation Vijay and lasted six weeks.
In excruciatingly tough terrain, valiant Indian soldiers defeated a treacherous enemy and won a brilliantly fought military campaign.
It was a battle won by the sacrifices of young Indian soldiers. Their exemplary courage mobilised a nation and secured India's borders one more time.
These brave men made the ultimate sacrifice so that we could be safe. They died so that we could know that nothing would happen to us as long as they kept watch.
On the occasion of Vijay Divas, July 26, rediff.com invites you to pay homage to some of India's greatest heroes, the martyrs of Kargil. 


What do you think about the story?








Read what others have to say:





Number of User Comments: 1076








Sub: salute to all the jawans for Pak as well as india..

ok the topic of this board is Salute the heroes of Kargil..i think its not only the indian jawaans but also jawans from pakistan...so please ...


Posted by annie









Sub: Salute to all Indian soldeiers and Indian

Vande Matram Come on Indian answer enemies as they diserve. Jai Hind ...


Posted by ANIL POLIST









Sub: salute to indian force

salute to kaargil hero's what they had done for us can't speak or write in words i salute them for their bravery and their ability ...


Posted by prakash rajpurohit









Sub: Hell to Pakistan

Hell to Pakistan. How in the world did they think of attacking us. What did they think while they attacking us. Did they think they ...


Posted by Aslam Haq









Sub: salute to kaargil hero's

namastee ji what they had done for us can't speak or write in words i salute them for their bravery and their ability to kill ...


Posted by amit sharma






Disclaimer